Wednesday, November 1, 2006
Nov-Dec 2006 On The Radar

Cessna received full FAA type certification for its Citation Mustang, making it the first official entrant into the highly anticipated very light jet market. "This is an immense achievement," said Cessna Chairman Jack Pelton, "marking another point in history when Cessna has led the aviation industry into new territory."" />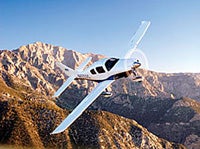 New Ways to Fly
A brand-new company, iFly, has launched its Exclusive Aero Club, a membership-only program designed to provide managed access to new Columbia 350 aircraft. Rather than purchasing a share in a plane—the corporate entity owns the aircraft—individuals will buy a membership. The typical hassles of ownership, such as insurance, maintenance and storage, will be taken care of by iFly.
With a 4-to-1 membership-to-aircraft ratio, iFly puts an emphasis on high availability. "Now more than ever, personal aircraft travel has the ability to transform your lifestyle," commented founding partner Erik Lindbergh, grandson of Charles Lindbergh. "You can go where you want to go when you want to go."
The aircraft fleet is based at six FBOs in Southern California, and there are plans to expand on a national level. Equipped with Garmin G1000 avionics, the Columbia 350s cruise at 191 knots and have a range of 1,300 nm. To learn more, visit
www.iflysmarter.com
.
There's yet another way to become a Cirrus pilot, as well. iAviate in Virginia has launched a new ownership program that offers fractional share (from 1⁄8 to 1⁄2), partnership and lease options in new Cirrus SR22-GTS aircraft. Ownership burdens are taken care of for participants, who'll also benefit from a comprehensive training program run by factory-certified instructors. Three aircraft have already been delivered to iAviate, with 12 more on the way. To learn more, visit
www.iaviate.aero
.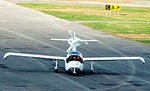 Seawind Amphibian
The first certification test flight of a Seawind amphibian built at the Quebec factory took place at Saint-Jean Airport on August 31, following successful engine, brake and ground steering tests. Prior to this flight, all other flying Seawinds had been built from kits. Potential options for the futuristic aircraft include a diesel engine, de-icing and air-conditioning. VFR certification is expected to take four months, followed by certifications for IFR, autopilot, FADEC and glass cockpit. Stay informed at
www.seawind.biz
.
Page 2 of 5