Wednesday, November 1, 2006
Nov-Dec 2006 On The Radar

Cessna received full FAA type certification for its Citation Mustang, making it the first official entrant into the highly anticipated very light jet market. "This is an immense achievement," said Cessna Chairman Jack Pelton, "marking another point in history when Cessna has led the aviation industry into new territory."" />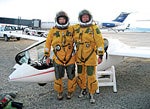 Einar Enevoldson and Steve Fossett
Soaring The Stratosphere
Adventurer Steve Fossett has set yet another world record. Along with pilot Einar Enevoldson, he reached an altitude of 50,699 feet in a glider flying over the Andes Mountains. After being released from a tow plane at 13,000 feet, the high-performance Perlan glider, which has a 72-foot wingspan, "surfed" from one mountain wave to the next. The pilots used the opportunity to perform scientific research on how mountain waves interact with polar winds. Both aviators donned pressurized NASA spacesuits, helmets, foot heaters and hand muffs—temperatures fell as low as minus-57 degrees C. A little more than four hours after their release from the tow plane, they broke the 1986 glider altitude record (set by pilot Robert Harris in California) by 1,662 feet. This was the team's third attempt, having flown previously in New Zealand, the United States and Argentina. As they flew above commercial air traffic in Chile and Argentina, radio calls broke the silence. "I couldn't understand the Chilean controller describing us in Spanish to the airline pilot," said Steve Fossett, "but I understood the answer by the pilot: 'Wow!'" Learn more at
www.stevefossett.com
and
www.perlanproject.com
.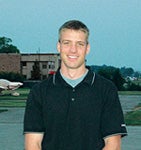 Aviation For A Cause
Twenty-six-year-old Preston Bentley is set to embark on a cross-country trip during which he'll touch down in all 48 contiguous states in an effort to raise $500,000 for Cincinnati's Ronald McDonald House. The nonprofit organization provides a "home away from home" for families of ill children who are receiving medical treatment at area hospitals. There are 259 such facilities across the country. Bentley's young cousin, Seth Bailey, passed away two years ago from a rare medical condition, and Seth's family spent many nights at the Ronald McDonald House.
Preston's aircraft will be a 120 hp Thorpedo T211 powered by a six-cylinder Jabiru 3300, a light sport aircraft donated by Dallas-based IndUS Aviation. In only 30 days, his route will cover approximately 8,000 nm.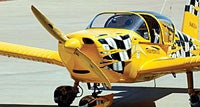 "This journey is about Seth and all the children who will benefit from the money raised in his name," said Preston, who works at Blue Ash Aviation & Charter at the Blue Ash Airport, north of Cincinnati, Ohio. "I want to do something good for this world, and I want to see and experience as much of it as possible in the process." Along the way, he'll visit local Ronald McDonald Houses to interact with children. For more information, log on to
www.rmhcincinnati.org
and
www.indusav.com
.
Page 3 of 5