Wednesday, November 1, 2006
Nov-Dec 2006 On The Radar

Cessna received full FAA type certification for its Citation Mustang, making it the first official entrant into the highly anticipated very light jet market. "This is an immense achievement," said Cessna Chairman Jack Pelton, "marking another point in history when Cessna has led the aviation industry into new territory."" />
Another coast-to-coast fundraising trip is planned by pilots Jim Carlaccini and John Long. Launching from Sebring Regional Airport in Florida, they'll spend two months flying to California in an FPNA A-22 Valor LSA and an Airborne XT-912 flexwing/trike. They'll be raising money for the Sunshine Foundation, part of the Make-A-Wish Foundation that grants wishes to children who have life-threatening illnesses.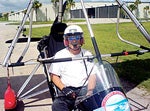 Jim, who is a paraplegic as a result of a skydiving accident, recently soloed in the modified trike. Powered by a Rotax 912-UL, the aircraft has hand controls for the throttle and front wheel brakes. His accomplishment will raise awareness that disabled people can do whatever they put their minds to. John will fly in the Valor as support crew.
Pilots are welcome to fly a leg with Jim and John during their journey. For more information, visit
www.fpna.com
.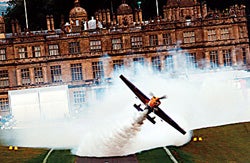 Pistons And Pylons
Strong winds and harsh weather prevailed during the seventh leg of the Red Bull Air Race World Series in Longleat, England, on September 2, putting a premature end to the event. British pilot Paul Bonhomme was named the official winner, based on a qualifying race the previous day. "It's a shame the race couldn't take place, but it would have been impossible under these weather conditions," remarked Bonhomme. "I'd rather have won it on race day." It wasn't just the racers who were disappointed—more than 60,000 spectators showed up in the rain to cheer on their favorites.
With only two remaining races in the season, the competition is intensifying. Bonhomme, who flies an Edge 540, currently ranks fourth overall, and has his eyes on placing in the top three. American pilot Kirby Chambliss, also in an Edge 540, placed third in Longleat, but leads the World Series overall. The next race will be in San Francisco on October 7, followed by a final race in Perth, Australia, on November 19. To follow the action, go to
www.redbullairrace.com
.
Page 4 of 5