Thursday, November 1, 2007
Nov-Dec 2007 On The Radar
XLS+ Completes First Flight

The latest version of the world's best-selling business jet model, the Citation XLS+, recently completed its first flight. "With the flight progressing as planned and the aircraft performing as expected, this first flight was a great success," said Cessna Citation XLS+ Program Manager Kevin Steinert. "The integration of the new Collins Pro Line 21 and Pratt & Whitney's FADEC-equipped engines went smoothly, and we look forward to continuing this program on schedule."" />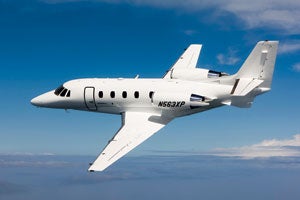 The latest version of the world's best-selling business jet model, the Citation XLS+, recently completed its first flight. "With the flight progressing as planned and the aircraft performing as expected, this first flight was a great success," said Cessna Citation XLS+ Program Manager Kevin Steinert. "The integration of the new Collins Pro Line 21 and Pratt & Whitney's FADEC-equipped engines went smoothly, and we look forward to continuing this program on schedule."

At this writing, the aircraft is undergoing further evaluation and testing at Cessna's primary design and manufacturing facilities in Wichita, Kans. Type certification of the XLS+ is expected in the first quarter of 2008, and first deliveries are scheduled for mid-2008.

Priced at $11.6 million, the XLS+ will continue the tradition of the Excel and XLS as an affordable stand-up-cabin business jet. The family of Excel/XLS aircraft, composed of 575 planes, have accumulated a total of nearly 1.2 million flight hours.

The original Citation Excel was delivered in May 1998; the Citation XLS followed in July 2004. The 500th Excel/XLS was delivered in June 2006, making the Excel/XLS the best-selling aircraft of all business-jet models since its introduction.

The Citation XLS+ is designed to travel at 440 KTAS (815 km per hour), has a range of more than 1,800 nm (3,440 km), climbs direct to 45,000 feet (13,700 m) in 29 minutes and lands on runways as short as 2,700 feet (823 m) at its typical landing weight.
Page 1 of 6