Thursday, November 1, 2007
Nov-Dec 2007 On The Radar
XLS+ Completes First Flight

The latest version of the world's best-selling business jet model, the Citation XLS+, recently completed its first flight. "With the flight progressing as planned and the aircraft performing as expected, this first flight was a great success," said Cessna Citation XLS+ Program Manager Kevin Steinert. "The integration of the new Collins Pro Line 21 and Pratt & Whitney's FADEC-equipped engines went smoothly, and we look forward to continuing this program on schedule."" />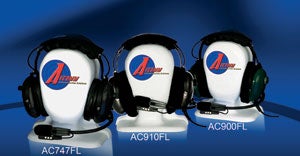 Telex Stratus 50-D Headsets Need Modification
Telex Communications has identified a potential issue with its Stratus 50 Digital Active Noise Reduction Aviation Headset, which results from incorrect insertion of the batteries in the headset's battery box.

Owners of the headsets are asked to return the units for a no-charge internal modification to address the battery-insertion issue. Instructions on how best to do this can be found at www.telex.com/Aircraft/Default.aspx or by calling the Telex Service Department at (800) 218-2410.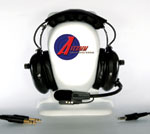 Let There Be Light
Avcomm International, makers of quality headsets and intercoms for the aviation, racing, safety and industrial sectors, has teamed together with FLITELite to offer the aviation world the latest in headset and lighting innovation—the first line of headsets with a built-in FLITELite that runs on intercom power, not batteries.
The light is directly attached to the headset and is activated by the touch of your lip. Avcomm has incorporated these simple, utility lights directly into its deluxe AC747, AC900 and AC910 general aviation and helicopter headsets. To learn more about FLITELite headsets, surf over to www.avcomm.com.

Hawker Beechcraft Services Appointed As Blackhawk Dealer
Hawker Beechcraft Services has joined the network of authorized dealers for Blackhawk Modification's popular King Air XP engine upgrades. Blackhawk's engine upgrades are certified for the entire King Air 90 series as well as the King Air 200 fleet. Randy Znamenak, Vice President of Sales and Marketing for Hawker Beechcraft Services, voiced his approval: "We're making quick use of Blackhawk as a customer-service tool. When our customers leave one of our facilities with a more powerful aircraft than when they arrived, everybody wins." Hawker Beechcraft Services in Houston just completed its second Blackhawk XP engine upgrade on a King Air F90. All 10 of Hawker Beechcraft Service's global network of factory-owned, world-class service centers are authorized to perform the King Air XP engine upgrades.

The appointment of Hawker Beechcraft Services as an authorized Blackhawk dealer will benefit the entire King Air fleet. The expanded service capabilities encourage operators with King Airs still under factory warranty, as well as those that aren't, to experience the Hawker Beechcraft tradition of top-notch customer service.

Blackhawk has now completed more than 90 XP upgrades on the King Air fleet. "We're thrilled to have Hawker Beechcraft Services showcase their world-class service capabilities by installing our XP family of PT6A engine upgrades," said Jim Allmon, President and CEO of Blackhawk Modifications. "The Blackhawk XP engine upgrades rejuvenate traveled King Airs to powerful new performance standards, something any King Air operator can get excited about." Blackhawk Modifications is the leading turboprop aircraft engine-upgrade company in the world; they specialize in King Air 90 and 200 series aircraft as well as Conquest I and Cheyenne series twin turboprops. Learn more at www.blackhawk.aero and www.hawkerbeechcraft.com.
Page 2 of 6