Thursday, November 1, 2007
Nov-Dec 2007 On The Radar
XLS+ Completes First Flight

The latest version of the world's best-selling business jet model, the Citation XLS+, recently completed its first flight. "With the flight progressing as planned and the aircraft performing as expected, this first flight was a great success," said Cessna Citation XLS+ Program Manager Kevin Steinert. "The integration of the new Collins Pro Line 21 and Pratt & Whitney's FADEC-equipped engines went smoothly, and we look forward to continuing this program on schedule."" />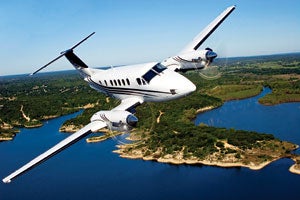 Blackhawk Now Offering Its King Air "B200 Super XPR" Upgrade Package
Blackhawk Modifications has released a new engine-upgrade package for the King Air B200 series—the "B200 Super XPR" upgrade. Customer deliveries began in October 2007. For the "B200 Super XPR," Blackhawk teamed with Raisbeck Engineering in a joint program that incorporates factory-new Pratt & Whitney PT6A-61 engines and the full Raisbeck EPIC Performance Package onto the King Air B200 fleet. The new -61 engines coupled with the EPIC introduce enhanced value for in-service B200s by offering the best available takeoff, climb and cruise performance. The new performance configuration will yield cruise speeds of up to 305 knots.

"After a year of extensive engineering and flight testing, the -61 engine is undoubtedly the optimal powerplant for the existing King Air B200," stated Jim Allmon, Blackhawk President and CEO. A Super XPR–equipped B200 is now the best option for buyers desiring speed without giving up the comfort of a large cabin."

Raisbeck Engineering Chairman and CEO James Raisbeck believes this joint program is structured for immediate success. "Raisbeck Engineering is grateful to be counted among the technical contributors, along with Pratt & Whitney, to the Blackhawk PT6A-61-repowered Super King Air XPR program. Equipping every B200 that receives the -61 engines with the Raisbeck EPIC Performance Package gives these airplanes better-than-new speed, range and field performance."

The introductory base price is set at $870,000 (exchange) for two factory-new -61 engines if the aircraft is already EPIC equipped. A 2,500-hour or five-year factory warranty is included in the sales price. See www.blackhawk.aero for further details.

In other Raisbeck news, the company has appointed Naples Jet Center as a new Raisbeck Authorized Installation Center. Naples Jet Center now has the responsibility of promoting, selling and installing Raisbeck King Air Performance Systems to current and prospective customers. Located in Naples, Fla., the center is a new FBO offering services, which include maintenance, avionics and sales.

Raisbeck's Engineering Sales Manager for King Air Performance Systems, Scott Keefe, stated, "We're excited about broadening our dealer network with such a high-caliber installation center. Naples Jet Center has a very professional and experienced staff and will be an asset to both Raisbeck and King Air owners and operators."

Raisbeck Engineering was founded in 1973 and continues to dedicate itself to improving the productivity, safety and performance of business and commercial aircraft. For more information, see www.raisbeck.com.
Page 5 of 6