Saturday, November 1, 2008
Nov-Dec 2008 On The Radar
Shake-up At the Top
"I've never quit anything in my life, and I'm not quitting now." That's how Vern Raburn announced to a crowd of journalists at Oshkosh that he had been forced out of the company as a condition of its being awarded a new round of financing. "In the world of high finance, these things happen, and I had no choice but to agree to these terms," said Eclipse Aviation's founder. New CEO Roel Pieper ascended the podium and explained that the company's new focus will be on operations and getting the VLJ ready for prime time and delivery. "The change is made," he said. "Eclipse goes on."
Some 250 of the Eclipse 500 twin jets have been delivered, and Pieper's job is to ensure that production and compliance continue. In September, Eclipse was restructured into separate manufacturing and operations divisions. Since AirVenture, the company has laid off employees and addressed a flight-software problem; it now faces a "special certification review" by the FAA, which is taking another look at how the jet got certified to see if anything needs to be done to ensure compliance and airworthiness. Visit
www.eclipseaviation.com
.
Kodiak: Jump Certified & Already Competing
The fifth Quest Kodiak ever built has earned FAA certification as a jump ship, featuring numerous modifications, such as the installation of a roll-down rear jump door that's closeable from the pilot's seat, a wing-mounted camera, a 14-inch photographer step, jump lights, wind deflector, and internal and external grab rails that run the full length of the door. Unlike virtually every other jump plane with these types of mods, the Kodiak is fully type certified—no 337s, anywhere. The machine's owner, the Rhine Army Parachute Association (RAPA), worked closely with Quest during the certification process. In June, British Major Paul Moore, Commandant of the Joint Services Jump Center, accepted delivery of a fully approved and certified aircraft to make the initial test jumps. RAPA (a service charity of the British Army that provides military training, sport training for both military personnel and civilians, and parachuting/skydiving exercises and competitions) flew the 10-seat jump plane home (without fuel-capacity modifications) to Bad Lippspringe, Germany, where it was flown in competition as a jump plane less than two weeks after Maj. Moore took delivery at the Sandpoint, Idaho, factory. At gross, the all-aluminum, Pratt & Whitney PT6A–powered Kodiak takes off in 700 feet and climbs at 1,500+ fpm. The 10-seat, 6,750-pound MTOW Kodiak cruises at 185 knots and 12,500 feet, where it delivers (in layman's terms) some 4.5 mpg. Visit
www.questaircraft.com
.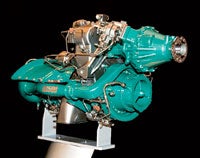 Rolls-Royce Introduces The RR500
Hot on the heels of the company's announcement that its RR300 turboshaft will be powering a RotorWay International design (in addition to launch-customer Robinson's R66), Rolls-Royce teamed up with Mooney Aircraft at AirVenture 2008 to cut the rest of the world in on its turboprop RR500. (Though the memorandum was issued jointly, Mooney offered no specific plans for its use of this engine.) This powerhouse will be rated to produce 400 shp in climb and 320 shp in cruise. (Economy cruise yields 270 shp, burning just under 24 gph.) Once installed, it weighs about 250 pounds. An outgrowth of the RR250 family of small turbines (and, specifically, the RR300, introduced at the 2007 Helicopter Association International show), the RR500 TP engine represents the fifth new civil-engine program launched by Rolls-Royce in 24 months; it features multifuel capability, an electronic engine-monitoring system and an "extended TBO," plus smoothness and cabin quiet unmatched by piston engines. Basically a scaled-up RR300 (and that sounds a lot simpler than it is), the RR500 program will benefit from clearing its certification hurdles with the work done on the RR300 and the RR250 (neé Allison) in a fleet that has accumulated nearly seven million flight hours. Visit
www.rolls-royce.com
and
www.mooney.com
.
Page 2 of 4