Saturday, November 1, 2008
Nov-Dec 2008 On The Radar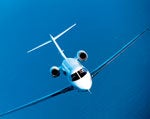 Swearingen SJ30-2 Effectively Acquired
If owning 80% of a company constitutes ownership, Emirates Investment & Development (Emivest) of Dubai, United Arab Emirates, the master developer of the Lyon-Dubai City project, has just purchased Sino Swearingen Aircraft Corporation (SSAC). Approval by the Committee on Foreign Investment in the United States (CFIUS) allowed the deal to move forward, assuring sufficient cash to bring "the world's fastest, longest-range and highest-flying light jet" to full-scale production.
This first acquisition of an American company by Emivest breathes new life into the program, which has already delivered at least one jet into private hands. With a fast cruise of Mach 0.83, an operating ceiling at FL490 and a range of 2,500 nm, the all-metal SJ30-2—powered by two Williams FJ44-2A fanjets and managed by two pilots behind a Honeywell Epic panel—can deliver more than 5 mpg at around 500 mph (Mach 0.78) in a lav-equipped, 2+4 or 2+5 cabin that maintains 12 psi in flight. (That's sea-level pressure all the way to 41,000 feet.) For now, SSAC will maintain its company name, and its 300 workers will remain in existing facilities in San Antonio, Texas, and Martinsburg, W.V. Visit
www.sj30jet.com
and
www.emivest.ae
.
Blackhawk Expands Engine Upgrade Options
Blackhawk Modifications of Waco, Texas, has earned European (EASA) approval on Pratt & Whitney PT6A-61 and PT6A-52 engines for the King Air 200 and B200 series. (The PT6A-52 is OEM equipment on the Hawker Beechcraft B200GT. The only difference between the engines is an ITT limitation increase of 20 degrees C on the PT6A-52. Blackhawk gained approval of both the PT6A-61 and PT6A-52 to provide operators with more options.) With more than 30 engine upgrades booked in the past year, the popularity of 310-plus-knot performance led Blackhawk to pursue worldwide certification.
Often referred to as the "Blackhawk Super XPR61," a prerequisite with the EASA approval is the complete Raisbeck EPIC Platinum package. Because Blackhawk has the largest non-OEM contract with Pratt & Whitney, timely engine-delivery positions are ensured along with "generous credit for time remaining to overhaul on core PT6A-41 or PT6A-42 engines."
Since 2000, Blackhawk has delivered more than 190 conversions, most of which are on the King Air 200 series and C90s; it also has delivered upgraded members of the Conquest I and Cheyenne families. The Super XPR61 and Super XP52 packages can be installed by Blackhawk's global distribution network, which includes facilities in the United States, the United Kingdom, Germany and Switzerland. Visit
www.blackhawk.aero
.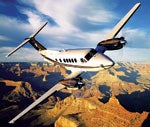 $15K Incentive From Raisbeck
The Raisbeck performance packages have become so popular with buyers of the Beechcraft B200GT that, as of September, more than 45% of new GT owners and operators have requested Raisbeck Performance Systems to be installed on their aircraft prior to delivery. That's almost a problem for Raisbeck: The packages involve a significant prop upgrade (among other mods), and Raisbeck noticed that "customers aren't ready to upgrade their factory-new, four-bladed propellers prior to overhaul, although they don't have the performance of the Raisbeck/Hartzell Quiet Turbofan four-bladed propellers." Raisbeck has figured out how to deal with that and is now offering a Platinum Conversion Certificate, worth $15,000, toward the upgrade from its Epic Gold package to the Epic Platinum. "Basically, we're more than happy to equip B200GTs with our Epic Gold package," said a Raisbeck representative. "The performance benefits are great, and the operator doesn't need to replace the factory-new propellers. Once an Epic Gold is purchased, we'll provide purchasers with our Platinum Conversion Certificate, which they may conveniently redeem at their next propeller overhaul toward our Epic Platinum." The (basic) Epic Gold purchase must be completed by December 31, 2008. Visit
www.raisbeck.com
.
Page 3 of 4