Thursday, November 1, 2007
November 2007 Readback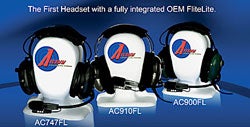 See The Light
Avcomm International, maker of quality headsets and communications gear, recently partnered with FLITELite, maker of the NASA-researched FLITELite LED lights, to produce the latest in headset and lighting innovation to the aviation world. This is the first line of headsets with a built-in FLITELite that runs on intercom power, not on batteries. The light directly attaches to your headset and is activated by the touch of your lip. Avcomm has incorporated these simple, utility lights directly into the deluxe AC747, AC900 and AC910 general aviation and helicopter headsets. To learn more, contact Avcomm at (800) 845-7541 or visit our Website at
www.avcomm.com
.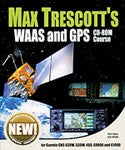 All About WAAS
The release of Max Trescott's
WAAS
and
GPS
CD-ROM course is the first single, comprehensive source for WAAS information. Currently, WAAS-capable Garmin GPS units are shipping in huge volumes, but it hasn't been easy to learn how to fly these exciting new approaches. This course takes you step-by-step through flying approaches, starting with movies of actual approaches being flown followed by scenarios that let pilots practice entering an instrument procedure for flying an LPV, LNAV/VNAV or LNAV+V approach. Other extras include a WAAS FAQ, glossary and printable lists of every LPV and LNAV/VNAV approach in the country. Learn more by contacting Glass Cockpit Publishing at (800) 247-6553 or visit us at
www.g1000book.com
.

Brighten Up Your Cockpit
It seems that almost every airplane has at least one post light that never seems to work. Sporty's offers an easy and inexpensive solution with Suction Cup Instrument Lights. Stick the light onto the face of an instrument (airspeed, altimeter, tachometer, etc.) and turn it on. The mini-LED light illuminates the entire face of the instrument, without obstructing your view. These lights are also good for older eyes, and quickly light up dark corners of your panel. They're useful in an electrical emergency—a big improvement over sticking a flashlight in your mouth. Multiple lights can be used to light the entire panel if necessary. For more information, contact Sporty's at (800) SPORTYS or visit us at
www.sportys.com
.

Understanding Chart Basics
All pilots need to understand and interpret the three common aviation navigation charts. Virtual Nav Chart is a program that explains in depth the World Aeronautical Chart, the Sectional Chart and the Terminal Area Chart. This fully animated tutorial uses professional narration and three-dimensional graphics to aid understanding of all the aspects of VFR charts. The 90-minute, two-disc CD-ROM runs on Windows. For more, contact Sporty's at (800) SPORTYS or visit our Website at
www.sportys.com
.
Page 4 of 4