Tuesday, September 22, 2009
November 2009 Readback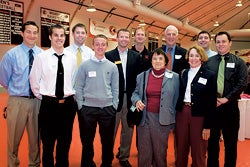 Sporty's Funds Cincinnati Students
The Sporty's Foundation awarded three scholarships to the top three incoming sophomore students in the University of Cincinnati's Professional Pilot Program. After completion, the students will receive an FAA commercial pilot certificate and an associate of applied science degree in aviation technology. Qualified students who graduate from the aviation program often work as flight instructors at Sporty's Academy while they earn their bachelor of business administration. This year's recipients were Abdelaziz Akkoub ($15,000), Sophie Gilgean ($10,000) and Patrick Spare ($5,000). Visit
www.sportysfoundation.org
.
EVS-100/600 For Cessna Caravan
Forward Vision now offers an FAA-approved STC kit for installation of its EVS-100 and EVS-600 on the Cessna Caravan. The STC was designed and developed by Cary Foster and Sharmaine Vestal, co-owners of One Sky Aviation, a full-service aviation maintenance facility based in Anchorage, Alaska. One Sky is an authorized dealer/installer of Forward Vision's enhanced vision systems. Visit
www.forward-vision.net
and
www.oneskyaviation.com
.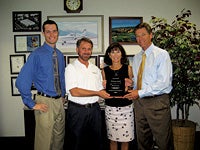 No Gloom In Paradise!
Paradise USA has announced the addition of Light Sport Experts as its southeast regional dealer. Represented by Joe Crocker, Light Sport Experts is based in the Florida Panhandle and specializes in LSA training and sales. Visit
www.lightsportexperts.com
and
www.paradiseaircraft.us
.
Aircraft Spruce Receives Garmin's Platinum Award
Aircraft Spruce & Specialty has received the Platinum Award for achieving the highest sales performance among Garmin International's network of distributors. Visit
www.garmin.com
and
www.aircraftspruce.com
.
Cash For Junkers
American Legend Aircraft Company now has a "Cash For Junkers" rebate program, which offers $4,500 toward the purchase of a new Legend Cub. To receive the rebate, customers must trade in an older aircraft, operable or otherwise. Through this program, American Legend hopes to boost aircraft sales, despite the down economy. Visit
www.legend.aer

PRODUCT PREVIEWS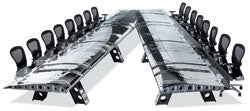 High-Flying Furniture
As a company that crafts furniture out of vintage airplane parts, MotoArt has made desks from B-25 bombers, beds from 747 airliners and even tables from Jacobs radial engines. But the SoCal-based crew recently completed its biggest piece yet: a V-shaped C130 conference table for Lockheed Martin's headquarters in Arlington, Va. Fabricated from two 24-foot-long, full-length outer-wing flaps of the C130 Hercules, the one-of-a-kind table took nearly 500 man-hours to develop. The table's 48-square-foot, mirror-polished flaps can seat 24. Built for the U.S. Air Force, the Lockheed C130 was originally designed for cargo transport and medical evacuation. Contact: MotoArt, (310) 375-4531, www.motoart.com.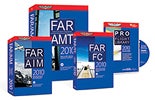 2010 FAR/AIM Series Available!
ASA presents its 2010 FAR/AIM series: FAR for Flight Crew, FAR for Aviation Maintenance Technicians, FAR/AIM and Flight Library Pro DVD. For over 25 years, ASA's FAR/AIM books have been an industry standard. ASA consolidates the most current FAA regulations and procedures into three easy-to-use reference books and one DVD. Free updates are available online. Contact: ASA, (800) ASA2FLY, www.asa2fly.com.
Page 2 of 3