Tuesday, September 24, 2013
November 2013 Readback
ICON Gets Weight Exemption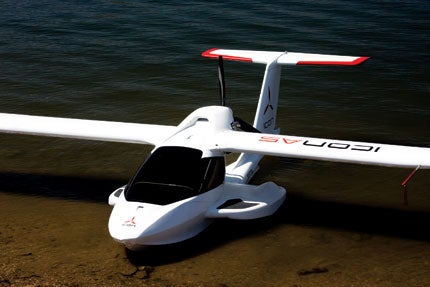 The FAA issued its decision to grant ICON Aircraft's petition for exemption to allow an increased takeoff weight for ICON's A5 amphibious LSA up to a maximum of 1,680 pounds. The exemption would accommodate, among other safety features, a spin-resistant airframe that enables the A5 to better avoid loss-of-control scenarios due to stall/spins. The company announced in February of 2012 that the A5 had been successfully tested and met the full FAA Part 23 standard for spin resistance. The FAA exemption will allow the A5 to become the first conventional production aircraft to meet this rigorous safety standard. "We're excited the FAA has recognized the importance of this accomplishment to the future of aviation safety," said ICON CEO Kirk Hawkins. "For decades now, statistics have shown that loss of control due to stall/spin situations is the leading cause of pilot-related fatal accidents in general aviation. ICON spent an extraordinary amount of time and resources going well beyond the call of duty to achieve this important safety milestone," Hawkins said. The FAA's decision enables ICON to continue with A5 manufacturing, currently scheduled for first production aircraft in spring 2014. Visit
www.iconaircraft.com
.
Jeppesen & Piper Team Up
Jeppesen and Piper Aircraft will now provide flight data as part of the general aviation aircraft purchase process to simplify access to flight information for pilots through a new service agreement between the companies. Delivery of newly purchased Piper aircraft will include Jeppesen NavData and digital charts onboard, and ready for use in flight. Piper aircraft equipped with Garmin G1000 avionics will receive a PilotPak data bundle that also includes supplemental databases, including obstacle, terrain, SafeTaxi and airport diagrams, in addition to Jeppesen navigation data. "Having Jeppesen flight data onboard at the time of new aircraft delivery eliminates a step in the flight preparation process and enhances the overall customer experience," said Piper vice president of sales and marketing, Drew McEwen. "This data service provides trusted flight information that is packaged for the specific needs of pilots as they take to the skies in their newly purchased Piper airplane," McEwen said. Jeppesen flight data will be provided with the purchase of Piper Meridian, Mirage, Matrix, Seneca V, Seminole, Arrow, Archer LX, and Archer TC models equipped with Garmin G1000 and G500 avionics, and Chartview functionality. Visit
www.jeppesen.com
and
www.piper.com
.
Hartzell Sells 20,000th Unit
Hartzell Propeller's industry-leading "Top Prop" line of STC'd two-, three- and four-bladed constant-speed propeller conversions has reached the milestone of 20,000 unit sales as of July. The Top Prop program was launched in 1991 to offer new alternative replacement propellers for the maturing fleet of piston-engine aircraft. The plan was to offer improved three-blade replacements for original factory-installed two-blade propellers, improving performance, reducing prop diameter and noise, and increasing ground clearance. Through the years, with advances in airfoil design, manufacturing capability and construction technology, the opportunities to offer improvements have broadened to include scimitar-shaped, "blended" airfoils and the latest in carbon-fiber construction technology. Visit
www.hartzellprop.com
.
King Schools Free App
John and Martha King of King Schools have released a free iPad and iPhone app that connects customers to King Schools Online Knowledge Test Courses and allows them to download the course's video lessons. These can be watched at any time, with or without an Internet connection. The free app is available from the Apple App Store and only requires a King Schools iLearn account containing at least one King Knowledge Test Course. Once logged in, customers can navigate through the course and tap to download a lesson (or to unload a lesson to free up space on their device). "We know customers enjoy the benefits of King Online Knowledge Test Courses, such as the fact that they never expire and are always up-to-date," commented John. "The one thing that folks have asked for is the ability to view their video lessons when not connected to the Internet," continued John. "Now they have that ability by simply downloading a free app," added Martha. "And since this app works with all existing King Knowledge Test Courses, current customers will get this new benefit immediately just by downloading the app." Search "King Com­panion" in the Apple App Store or go to
www.kingschools.com/companion
.
Kestrel Chooses Garmin
Kestrel Aircraft announced that the Garmin G3000 avionics suite has been chosen as the launch avionics platform for the Kestrel Aircraft, currently in development. The Garmin G3000 is the first touch screen-controlled integrated flight deck for light turbine aircraft and is designed specifically for Part 23 turbine aircraft. Kestrel's COO and executive vice president of product development, Steve Serfling, stated, "The Kestrel/Garmin team is focused on offering the full Garmin G3000 feature set into the Kestrel while integrating the display and control of several aircraft systems into the already impressive G3000. I am excited to work with Garmin to bring our customers the most integrated cockpit in its class." Visit
www.kestrel.aero
.
Kansas State Partners With Cessna Pilot Centers
Cessna Aircraft announced a collaboration with Kansas State University to complement the university's aviation open distance education program. Under this agreement, K-State will recognize training completed at any of the domestic Cessna Pilot Center flight schools as credit toward the student's bachelor's degree in technology management at the university's aviation school at their campus in Salina, Kans. "Cessna is thrilled with this unique opportunity to be even more involved in supporting pilot training, side-by-side with the highly respected accredited aviation program at K-State Salina," said Jodi Noah, Cessna senior vice president of single engine/ propeller aircraft. Visit
www.cessna.com
and
www.salina.k-state.edu/aviation
.
Page 1 of 2