Wednesday, October 1, 2008
October 2008 Readback
The PiperJet Takes Flight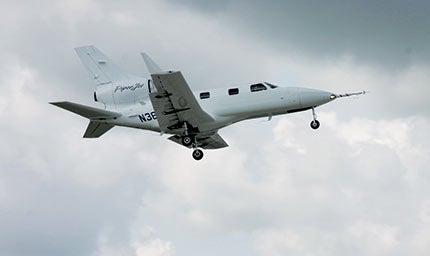 On July 30, 2008, the PiperJet made its first flight from Piper's headquarters in Vero Beach, Fla. "Today marks the beginning of a new era for Piper Aircraft as the company literally takes flight into a whole new realm of performance, luxury and capability," asserted Piper President and CEO James K. Bass.

Powered by a Williams FJ44-3AP that's rated at 3,000 pounds of thrust, the PiperJet flew for one hour, reaching a maximum altitude of 10,000 feet and a speed of 160 KTAS. The six-seat VLJ—with an option for either a seventh seat or lavatory—will offer Garmin glass avionics, a luxurious interior and an estimated range of 1,300 nm and full-fuel payload of 800 pounds. Deliveries are anticipated to begin in 2011; the PiperJet will come with a $2.199 million price tag. Learn more at www.piper.com.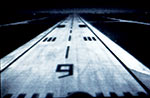 Looking Forward
Expedition Aircraft has announced that it will make Forward Vision's infrared system, the EVS-100, available on all of its newly certified aircraft models. The self-contained system is ready to mount, designed to be upgradeable and operates in all conditions. A long-wavelength infrared (LWIR) sensor is sunlight safe and features greyscale to discern detail.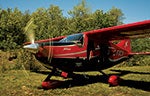 Comp Air, the first kitplane manufacturer to integrate the EVS-100 into its aircraft, will also make the EVS-100 available on its new models (Comp Air 9, 11 and 12). Preexisting models are also all available with the EVS-100. Visit www.forward-vision.net, www.expeditionaircraft.com and www.compairinc.com.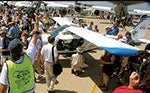 Avidyne SVS & EVS
Avidyne has enhanced its Entegra product line with a Synthetic Vision System (SVS) and Enhanced Vision System (EVS). The Entegra SVS depicts 3D terrain, obstacles, traffic and Highway-in-the-Sky (HITS) boxes on the PFD. The Entegra EVS uses a Forward Vision EVS-100 infrared camera that enables pilots to see up to 10 times farther in marginal VFR conditions and through most atmospheric obscurations. For more, visit www.avidyne.com.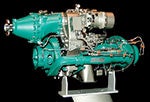 A New Engine From Rolls-Royce
Mooney has announced that it has entered into a joint engineering project with Rolls-Royce to explore the use of the new RR500 turbine engine as an alternative fuel (Jet A) powerplant to complement the current Mooney product line.

"The RR500 turbine introduced this week by Rolls-Royce represents the next step in our exploration of alternative fuel power for personal aircraft," explained Dennis Ferguson, Mooney's CEO. "The rugged Mooney airframe is uniquely suited to accept the power of the Rolls-Royce engine, and we're very excited about working with Rolls-Royce to examine the possibility of bringing a Jet-A powered Mooney turboprop to the market in the future." Log on to www.mooney.com and www.rolls-royce.com.
Page 1 of 3