Wednesday, October 1, 2008
October 2008 Readback
The PiperJet Takes Flight

Expedition Gets Canadian Certification
The Expedition E350, manufactured by Found Aircraft Canada, has been granted type certification by Transport Canada. The type certification includes day and night VFR and IFR for the tricycle-gear E350 and the E350 with Aerocet 3400 and 3500L floats installed.

The conventional-gear Expedition E350XC is currently in the final flight-testing stages; it's expected to be certified by Transport Canada by the end of the year. FAA certification for the E350 and E350XC are expected in the near future. [For more about the E350, see "For Town & Country" from P&P August 2008.] Visit www.expeditionaircraft.com.

SVT On Mooneys
Garmin's Synthetic Vision Technology (SVT) has been approved for installation in Mooney Acclaims and Ovations by the FAA. Beginning in August, Mooney will begin installing the SVT-equipped G1000 avionics packages in production aircraft. Mooney is also working on a package and pricing structure for aircraft owners who wish to upgrade their existing planes. Visit www.mooney.com.

Pedal To The Metal
Seven months after introducing the CTLS upgrade to its CT line of composite LSA, German-based Flight Design debuted its MC (for Metal Concept) LSA at EAA AirVenture 2008. The high-wing aircraft incorporates aluminum skin construction in its design. A steel-cage framework protects occupants. Also notable is the spacious 51.6-inch-wide cabin—one foot wider than a Cessna 172's cabin.

As with all Flight Design LSA, the MC will come standard with an all-airplane emergency parachute system. A $7,000 deposit will lock the as-yet-unannounced price against any potential currency fluctuations. Visit www.flightdesign.com.

New Lycoming Engines
Lycoming has launched a series of iE2 engines that offer integrated electrical power generation, advanced sensor technology and electronic knock detection. The iE2 has the ability to adaptively control the
engine on an individual cylinder basis and optimize performance under any operating condition. The first iE2 engine model planned for FAA certification will be the 350 hp, twin-turbocharged TEO-540-A1A in 2009.
Lycoming has also introduced the IO-233-LSA engine, an ASTM-conformed gasoline engine rated at 100 hp to 116 hp for light-sport aircraft. New engine design features include throttle body fuel injection with an optimized air-induction system and electric-spark ignition within a proven powerplant. The engine is approved for 2,400-hour TBO intervals and is currently undergoing final performance and endurance testing. For more info, visit www.lycoming.com.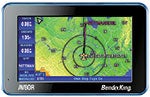 AV8OR Series
Honeywell has launched its new Bendix/King AV8OR Series of portable avionics for GA pilots. Three new systems in the series include the AV8OR Handheld MFD and two portable, synthetic-vision-equipped cockpit information systems, the AV8OR Horizon 3D and the AV8OR Vision 3D. The AV8OR Handheld, priced at $749, has a high-resolution, 4.3-inch, diagonal touch screen and offers innovative features like Smart Profile, which provides a vertical profile view of the flight path relative to terrain, airspace and obstacles. Visit www.bendixking.com.



Save Time, Make Your Plane Shine
You don't need to spend hours slaving over your airplane to get it clean. With aerosol Wax As-U-Dry from Eagle One, just spray the product on and leave it wet, then dry with a chamois or towel. The result is a high-gloss shine with no hazing, streaking or white residue. The push-button convenience and consistent coverage provided by Wax As-U-Dry make the once tedious cleaning process a snap. Each additional use adds a protective layer of wax to the finish. This unique formula utilizes a blend of water-reactive polymers with real carnauba wax for a lasting shine. It's safe for all painted surfaces, as well as windows and trim. The 18-ounce can is available at most auto supply chains. For more information, contact Eagle One at (800) 682-6994.
Page 2 of 3