Tuesday, August 25, 2009
October 2009 Readback
Top Stories
Austro Certification For Diamond
Diamond Aircraft has received FAA certification for its Austro Engine AE300. The jet-fuel-burning, 170 hp, turbodiesel piston engine offers single-lever thrust control and electronic engine management. This certification paves the way for FAA validation of the EASA type certificate for the DA42 NG (expected late-Q3 2009).
Diamond Aircraft and Garmin have announced a new factory-equipped glass-cockpit solution for the DA20-C1 two-seat trainer. The 2010 DA20 with Garmin G500 will be available for delivery starting October 2009. Visit
www.diamondaircraft.com
,
www.austroengine.at
and
www.garmin.com
.
New Lycoming Engines
The maiden flight of Lycoming's iE2 (integrated electronic engine) on an OEM airframe occurred on July 2, when Lancair flew its TEO-540-EXP iE2-powered Evolution into Oshkosh. "The promise of single-lever operation, automated preflight safety checks [and] automotive start simplicity will dramatically reduce pilot workload and revolutionize the general aviation landscape," says Ian Walsh, Lycoming's senior vice president and general manager. The 350 hp, high-performance, twin-turbocharged TEO-540-A1A is the first iE2 engine model planned for FAA certification.
Flight-testing on the production version of Lycoming's IO-233-LSA began in August. Introduced at EAA AirVenture 2008, the IO-233-LSA has been further optimized based on customer feedback, engineering development and prototype testing. The IO-233-LSA will be an FAA-certified gas engine with multiple continuous power ratings as high as 116 hp. Lycoming expects to start shipping noncertified IO-233s in Q4 2009. Engine certification and certified engine shipment are slated for early 2010. Visit
www.lycoming.com
.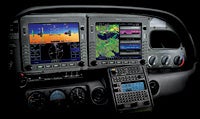 New Avidyne For Cirrus
Avidyne has released a new FMS400 flight management system. Additionally, Entegra Release 9 now comes in configurations reflecting three different price points. "The FMS400 configuration allows Cirrus owners who don't require full WAAS precision-approach capability to enjoy the advanced yet easy-to-use Entegra Release 9 and FMS functionality," said Avidyne COO Patrick Herguth. The Silver, Gold and Platinum configurations of Entegra Release 9 provide dual FMS900w (WAAS precision approach) or dual FMS400 (non-WAAS) FMS capability, as well as single and dual ADAHRS configurations. Avidyne is currently including a free upgrade to Synthetic Vision with all FMS900w-capable systems. Visit
www.avidyne.com
.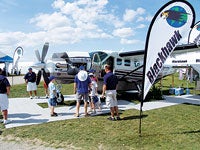 Jeppesen & Aspen Avionics
Jeppesen and Aspen Avionics have partnered to incorporate the Aspen Avionics Evolution Flight Display system into a full Jeppesen data solution. The system will utilize an aggregated NavData, obstacle, terrain and cultural database, which will be updated via the Jeppesen Services Update Manager data-delivery tool. Visit
www.jeppesen.com
and
www.aspenavionics.com
.
Blackhawk Caravan Upgrade
Blackhawk Modifications' new 850 shp P&W PT6A-42A provides an extra 175 shp to the Grand Caravan. Certification is expected in Q4 2009. "This engine is a game-changer for the 'workhorse' Caravan—now it's a powerhouse performer with incredible flexibility," said Blackhawk President and CEO Jim Allmon. Visit
www.blackhawk.aero
.
Page 1 of 3