Tuesday, August 25, 2009
October 2009 Readback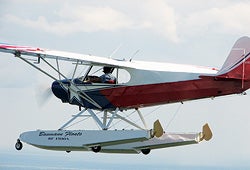 AirJourney Experts
AirJourney's Enhanced Travel lets groups travel with experts in history, technology, anthropology and other specialties. "We've noticed how much more people get out of a trip when there's an acknowledged expert along," AirJourney's Thierry Pouille said. See
www.airjourney.com
.
Diesel Liberty
At Oshkosh, Liberty Aerospace unveiled the first XL2 fitted with the Wilksch turbodiesel engine. The aircraft burns Jet A fuel and was designed to appeal to the international marketplace where 100LL is expensive and hard to obtain. "Our international customers have been very clear to us," said Liberty President and CEO Keith Markley. "They need an alterative fuel to the 100LL for aircraft they're running in their flight-training fleets." Visit
www.libertyaircraft.com
and
www.wilksch.com
.
FloatCub Amphib
American Legend now offers its Amphibious Legend FloatCub, which is configured with floats from Baumann Floats. The company completed and flew its first FloatCub in June 2005. The aircraft subsequently won the Best Float Fabric Seaplane Award at Sun 'n Fun 2006. Baumann has been manufacturing FAA-certified floats since 1989. Visit
www.legend.aero
.
Autolanding Bonanza
In collaboration with Rockwell Collins, Hawker Beechcraft completed the successful flight and landing of a Bonanza with an experimental autolanding device. The tests were part of HBC's program to develop advanced flight-control technologies for future use in GA airplanes. More testing is planned. Visit
www.hawkerbeechcraft.com
and
www.rockwellcollins.com
.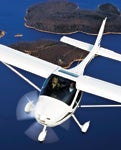 TCM FADEC Certification
Teledyne Continental Motors (TCM) has received FAA certification on its first turbocharged Full Authority Digital Electronic Controlled (FADEC) engine—TSIOF-550. "We developed and certified the Turbo FADEC 550 in response to requests from airframe manufacturers wanting a high-horsepower-engine offering mated with advanced electronic engine controls," commented TCM President Rhett Ross. The TSIOF-550 engine provides 350 hp at 2,600 rpm and a 22,000-foot critical altitude. Learn more at
www.genuine continental.aero
.
Remos Expansion
Remos Aircraft has received an infusion of new capital that "will allow us to continue and expand the programs that have propelled us to the top of the LSA market and progress into innovative marketing approaches," said Remos CEO Corvin Huber. "Our new investors, Pall Mall Partners of London, U.K., are technology-focused investors who have successfully implemented innovative marketing ideas in the automotive industry." Visit
www.remos.com
and
www.pallmallpartners.com
.
Page 2 of 3