Tuesday, August 23, 2011
Oshkosh 2011
Inventive ingenuity triumphs again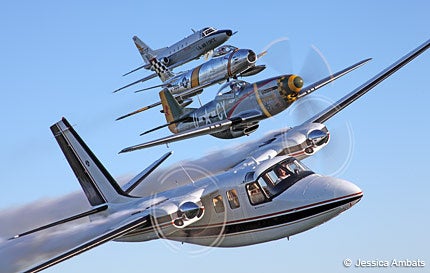 A special Bob Hoover tribute flight highlighted the Shrike Commander, P-51 Mustang, F-86 Sabrejet and Sabreliner, all airplanes that he piloted during his illustrious career.
Economies rise and fall like ocean waves. Headlines blare about this debt crisis and that stock market selloff, and through it all we keep on keeping on: That's what humans do. And what better way to thumb our noses at all the drama than to spend some time at the annual Oshkosh AirVenture show? This year's event enjoyed a modest bump in attendance, with more than half a million showgoers, 10,000 aircraft, 2,522 showplanes (up 142 from last year), and a two-day electric-aircraft symposium highlighted by the exciting demonstration flight of Calin Gologan's Elektra One production electric-powered single seater—the forerunner to a line of multi-occupant, all-electric Elektra airplanes.
The theme of the show was a 100-year celebration of Naval Aviation, with stirring flybys of Navy aircraft of today and yesteryear. Tributes to aviation greats Burt Rutan and Bob Hoover, the arrival of the beautiful Boeing 787 and the boffo Saturday Night Air Show complete with dazzling pyro were all the rage. But nothing gets a pilot's blood pumping more than a cruise through the product display hangars and booths. And aviation innovators never disappoint with a cornucopia of ever-more-fascinating instruments, gadgets and innovations.
The field of iPad aviation apps sprouts like mushrooms. Aspen Avionics announced its Connected Panel concept to integrate data from personal handheld devices to certified avionics (see "
Aspen Has Connections
" by Bill Cox).
There was, as always, introductions of instruments and gadgets, promising new GA and LSA aircraft, low-cost flight simulators, a black box that lets you control your GPS in flight—with your voice!—and even a tankless supplemental oxygen generator, just to highlight some of the cool new tech on display.
So, take heart: Worrisome news aside, our roundup of products prove that we're still thinking, experimenting, producing and marketing bold new concepts in the service of safer, more efficient, more enjoyable flight.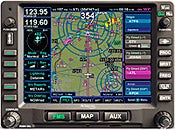 Avidyne IFD540
Avidyne IFD540
The trend toward easy-to-use touch-screen technology continues with Avidyne's IFD540 Touch Screen GPS/NAV/COM. Navigation, communication and multifunction display technology based on the company's Entegra unit are all now touch enabled.
The IFD540 is the heart of Avidyne's avionics suite stack, which also includes the AMX240 audio panel and AXP340 ADS-B Mode S transponder. The flight-management system combines multichannel digital VHF radio with a 16-channel GPS/SBAS receiver. It stores 1,000 user-defined waypoints in up to 99 flight plans.
General button pushing/knob twiddling is reduced by 50% to 75% or more, with touch-to-select data entry of airways, exit waypoints, destinations and approach procedures made easy with logically placed drop-down menus. Even direct-to navigation is single-button or touch-screen enabled.
Page 1 of 5
Labels:
Aviation News
,
Aviation Resources
,
Buyer's Guide
,
Cockpit Gadgets
,
Features
,
New Products
,
Pilot Guide
,
Pilot Resources
,
Pilot Supplies
,
Pilot Gear
,
Best Buys
,
Gear
,
Air Shows
,
What's New
,
Gadgets