Tuesday, August 23, 2011
Oshkosh 2011
Inventive ingenuity triumphs again
Courses can easily be modified by "rubber-band" dragging the course line to a new waypoint, or tapping a new waypoint to add it to the course or otherwise make a change. VOR, VHF localizer and UHF glideslope receivers are part of the navigation package...and touch-screen accessible. Conventional buttons and knobs are still available, too.
The 5.7-inch, 640x480-pixel screen has Avidyne's Ultra-Bright sunlight-readable technology, which includes LED backlighting for nighttime use.
The flight-management system is plug-and- play: It drops without wiring changes into any slot previously used by a Garmin GNS540 or 530W, while bringing a larger screen, four times more pixels for a sharper image and the touch-screen interface. Contact:
www.avidyne.com
.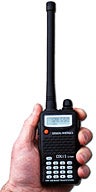 Dynon DX15 Handheld Radio
Dynon DX15 Handheld Radio
Leading LSA avionics manufacturer Dynon counts no small part of its success from its constant enthusiasm for growing the product line and cramming more and more functionality into its existing products, such as the widely adopted SkyView glass panel. The DX15 radio represents a bit of both devotions, in that it came about as part of the company's efforts to add a panel-mount radio to the SkyView system.
The new handheld radio debuts as one of the more compact portable transceivers on the market and at a very competitive $160 price. Li-Ion battery power is standard, rather than more common NiMH or NiCD radio packs.
Warranteed for three years, it's packed with features: backlit screen/keypad, 100 memory channels, quick recall of the 10 most recently used frequencies, and adjustable side tone. There's a battery life/charge indicator and dedicated 121.5 MHz Mayday button, too. It comes with antenna, belt clip, battery and charger, and has optional features like a headset/push-to-talk adapter cable, desktop rapid charger, even a car power adapter for charging on the way to the field. It's a compact unit at just 4x2.25x1.43 inches. Weight is only 8.2 ounces, including battery, antenna and belt clip. Contact:
www.dynon.com
.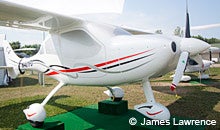 Flight Design C4
Flight Design C4
First debuted in mock-up stage last April at Germany's Aero Expo, Flight Design brought the C4 to Oshkosh...and subsequently announced it wrote $11 million worth of business before the show even ended! By far the biggest chunk was for 40 new four-seat C4 airplanes, to be European EASA-certified (and FAA approved by reciprocity).
The full-scale mockup looks like the grown-up version of the company's U.S.-sales-leading S-LSA, the CTLS, with graceful contouring along the same general lines of the CT. The all carbon-fiber composite C4 will carry four 6-foot-plus occupants up to 160 knots cruise on either a Centurion 155 hp diesel (and Jet A) engine or 180 hp IO-360 avgas engine, stall at 50 knots, launch in 1,312 feet, be certified for VFR and IFR, and have an impressive useful load of 1,320 pounds. That will work!
A BRS airframe parachute will be standard equipment on every plane, just as it is on the CTLS. Avionics still are to be decided, as company CEO Matthias Betsch is making partnerships with various vendors. Max range on 70 gallons of fuel will be 1,200 nm (avgas engine) and 1,700 nm (diesel engine). First deliveries are expected in 2013 at a price of €220,000, or $308,000 at today's exchange rate. Contact:
www.flightdesign.com
.
Page 2 of 5
Labels:
Aviation News
,
Aviation Resources
,
Buyer's Guide
,
Cockpit Gadgets
,
Features
,
New Products
,
Pilot Guide
,
Pilot Resources
,
Pilot Supplies
,
Pilot Gear
,
Best Buys
,
Gear
,
Air Shows
,
What's New
,
Gadgets