Tuesday, August 23, 2011
Oshkosh 2011
Inventive ingenuity triumphs again
Imagine the simplicity of updating charts and reference materials by download rather than having to constantly stuff in paper revisions and discard out-of-date pages. The full-color, high-res display offers easy search, zoom and pan with high/low altitude IFR charts, airports, airways, waypoints, navaids, airspace, terrain information, enroute and terminal communications, operational notes and more.
JeppView or Express JeppView subscription, and FAA or local civil aviation authorization to use the iPad in flight are required. Jeppesen even tested the iPad successfully for rapid decompression in flight. Contact:
www.jeppesen.com
.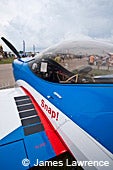 SportsairUSA Snap
SportairUSA Snap
With an LSA-legal MTOW below 950 pounds, the Snap, a new light-sport aerobatic one seater, gets its go from a custom-built 130 hp EPApower-modified Rotax 900 engine, which sports electronic fuel injection, inverted oil system, four-into-one exhaust and meets or exceeds FAA Part 23 acrobatic standards that specifies a minimum +6 / -3 wing loading. The plane is intended for competition at a lower price than conventional rigs, such as Pitts Specials and the Extra 300 series.
Full aerobatic testing for standards compliance is underway. Delivery is expected early in 2012 as either an S-LSA, E-LSA or Experimental-Exhibition model. Some specs: Max level speed of 120 kts, 45-knot stall, mogas or avgas fueled, Vne of 171 knots, 4130 chrome moly airframe, aluminum wing, carbon fiber composite rudder and ailerons, five-point safety harness...and man, is this cute or what? Contact:
www.sport.aero
.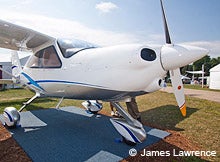 Tecnam P2010
Tecnam P2010
Italian aircraft mainstay Tecnam (producing since 1948) will soon add yet another beautiful, modern aircraft to its fleet. Phil Solomon, Tecnam North America's CEO, sees the new P2010 "Twenty Ten" four-seat cruiser square as a natural for the Cessna four-seater market: "The interior—same size as our P2006T twin—is close to a Cessna 182 in size and comfort. It has three doors; passengers love that. And all four seats adjust up, down and back and forth."
The P2010, expected to be EASA and FAA certified by the end of 2012, will range out with a useful load of 990 pounds. "That's less than a 182, but its effective payload is totally comparable because it only carries 46.2 gallon tanks vs. the 87 or 90 gallons in a C-182." That smaller fuel load is no liability either, since fuel consumption, with the Lycoming IO-360-M1a "Light" engine (180 hp at 2,700 rpm), will burn closer to nine gallons rather than the 182's 15 gallons per hour."
The sleek, modern carbon-fiber/metal hybrid airframe is priced to compete with the Cessna 172, Diamond DA-40 and Cirrus SR22. Cruise at 65% is 128 knots, and 133 knots at 75%. Climb is a peppy 1,050 fpm, and stall (flaps) is only 48 knots! Contact:
www.tecnam.net
.
Page 4 of 5
Labels:
Aviation News
,
Aviation Resources
,
Buyer's Guide
,
Cockpit Gadgets
,
Features
,
New Products
,
Pilot Guide
,
Pilot Resources
,
Pilot Supplies
,
Pilot Gear
,
Best Buys
,
Gear
,
Air Shows
,
What's New
,
Gadgets