Tuesday, August 23, 2011
Oshkosh 2011
Inventive ingenuity triumphs again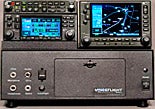 VoiceFlight VFS101
VoiceFlight VFS101
At last, tell your airplane where to go...with your voice! Control freaks and the rest of us will have no trouble envisioning the advantages, in such conditions as heavy turbulence or heavy cockpit workload, of a voice-controlled GPS.
Reducing pilot workload and increasing cockpit data entry distractions is as easy as "Alpha, Bravo, Charlie" with the VoiceFlight Systems VFS101. The black box lets pilots control input for Garmin GNS 430W and 530W GPS systems solely by voice: no more "head-buried-in-cockpit" risk.
The device's patented speech-recognition technology brings accurate and immediate response in all flight environments—without requiring prior "training" of the onboard software engine or specific profiles for different individuals. Anyone using voice-to-text technology to write on computers knows what a hassle that can be.
The VFS101 uses the standard aviation alphabet (Alpha, Bravo etc.) to quickly input waypoints into the GPS, up to 10 times faster than fumbling with knobs or hitting the right spot, in the bumps, on a touch screen. Simple Direct-To destinations and complex flight plans alike can be entered by voice. Victor Airways are automatically expanded. ATC re-routes are simplified. And fallback manual control of onboard GPS is always available.
It's the first speech-recognition device to be FAA certified. The STC currently allows installation on Cessna 182 models equipped with single or dual Garmin GNS 530W and GNS 430W GPS units. For aircraft other than Cessna 182, local FAA avionics shops will help pilots learn whether the VFS101 can be installed via a Form 337. Contact:
www.voiceflight.com
.
Largest Flying Airship
Among the 10,000 flying machines that descended upon EAA AirVenture 2011, there was one that was impossible to miss. The Farmers Airship, a Zeppelin NT owned by Airship Ventures, is the largest flying airship in the world. The 246-foot-long airship is able to operate within a 600-foot-diameter landing area, thanks to one rear and two lateral 200-hp Lycoming engines, which can be rotated 120 degrees and provide vectored thrust. It can reach a maximum speed of 77 mph and has a range of 500 nm. Visit www.airshipventures.com.
Page 5 of 5
Labels:
Aviation News
,
Aviation Resources
,
Buyer's Guide
,
Cockpit Gadgets
,
Features
,
New Products
,
Pilot Guide
,
Pilot Resources
,
Pilot Supplies
,
Pilot Gear
,
Best Buys
,
Gear
,
Air Shows
,
What's New
,
Gadgets