Tuesday, August 21, 2012
Oshkosh 2012: Airborne Excitement
Aviation's Mecca thrills again with a Cub homage, 200 mph electric flight and super-new goodies
Sixty years and half-a-million airplane lovers per year can't be wrong. EAA's AirVenture is the air show to go to if you want to try your hand at experiencing all things aviation.
This year celebrated two key anniversaries: AirVenture's 60th and the Piper Cub J3's 75th. Anyone taller than knee-high to a grasshopper had to smile as a wave of more than 100 golden J3s and derivatives flew in en masse, then parked together to create a sea of Cub Yellow in the aircraft parking area.
Oshkosh also showcases aviation technology past, present and future every year. Immaculately restored classics sit side-by-side with electric aircraft and exotic concepts. Anything remotely related to breaking the bonds of gravity makes the pilgrimage to Oshkosh, Wis., and we go to oooh and ahh.
We know we risk melting in the heat and humidity, getting drenched from torrential downpours or being sucked up to Oz by tornadoes, but every year we flock again to Wittman Field, and few, if any, of us are ever disappointed due to the sheer kaleidoscopic wonderfulness that is simply known as Oshkosh.
More than 10,000 aircraft flew in this year. Another 2,500 showplanes were on display, and although the 802 commercial exhibitors seemed like much fewer than last year, that tally was in fact just one less than 2011's.
As always, Oshkosh is a great place to go to see who has got the latest, greatest new plane or gadget or exciting story to tell. Below, here's our pick of notable happenings: See you next year!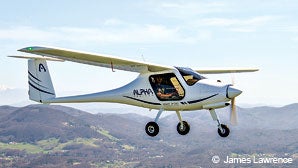 Pipistrel Alpha
Pipistrel Alpha Trainer
Fresh from its stunning NASA Green Flight Challenge win last year with the brilliantly innovative Taurus Electro G4—a four-seat electric-powered aircraft—forward-thinking Slovenian company Pipistrel again demonstrated its continued push to become a major light-aircraft presence.
The Alpha Trainer is the latest addition to a broad lineup of super-efficient two-seat cruisers, motorgliders and the in-development Panthera four-place GA super cruiser that will have three power systems: gas, electric and hybrid!
At just $83,000, the Alpha, announced late last year, is already in production as an ASTM-certified S-LSA. It derives from the company's popular models but, in particular, optimizes flight-school ruggedness and fuel economy.
Although powered by just 80 horsepower (Rotax 912 engine), it hardly skimps on performance. The sophisticated, bullet-nosed carbon-fiber-composite airframe delivers a 108 knot cruise at 3.6 gallons/hour fuel burn, climbs at 1,220 fpm at 76 knots and ranges out 390 miles minus reserve.
Page 1 of 7
Labels:
Aviation History
,
Cross-Country Travel
,
Journeys
,
New Products
,
People and Places
,
Shows and Fly-Ins
,
New Aircraft
,
Air Shows
,
What's New
,
Aircraft
,
New Airplanes