Tuesday, August 21, 2012
Oshkosh 2012: Airborne Excitement
Aviation's Mecca thrills again with a Cub homage, 200 mph electric flight and super-new goodies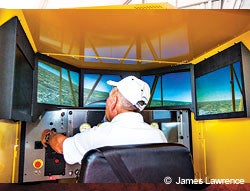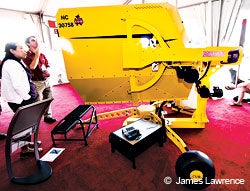 Redbird J3
Its modified and beefed-up landing gear is meant to stand up to flight-school hard knocks. Alpha minimizes hourly costs for schools, too, with a 2.5 gallon-per-hour fuel burn during pattern work!
Beautifully sculpted, forgiving and docile but highly responsive (we were the first U.S. magazine to fly it: full report next issue), Alpha comes standard with a full panel of innovative new LX analog/digital instruments and a ballistic airframe parachute. Contact:
www.pipistrel-usa.com
.
Redbird J3 Cub Motion Simulator
Redbird Flight Simulations had a super-fun Piper Cub J3-themed simulator at Oshkosh that drew long lines of eager old and young folks to take a turn at the controls. The six LCD screens wrap around the interior for a good life-like view. The three-axis, full-motion cab is painted Cub yellow, comes with excellent software graphical display simulations, and sports the classic Piper black lightning bolt on its side. There's even a small prop up front that you spin by hand to start the simulation! Completely wonderful.
At $54,000, the single-pilot full-motion simulator was intended as a one-off to commemorate the 75th anniversary celebration of the Piper Cub J3, but after one was sold at the air show, the company said it would add the special version to its sim line up.
"Flying" was much like flying a Cub, right down to a random programmed engine failure that required a dead-stick wheel landing.
Plane & Pilot
acquitted itself admirably by sticking it just past the numbers.
Just 8x8 square feet of space and a standard 15 amp electric power source are needed to accommodate the Redbird MX2-based simulator. Contact:
www.redbirdflightsimulations.com
Lisa Airplanes Akoya
Amphibian aircraft are true fly-everywhere birds. Perhaps the most exotic amphib yet is the Akoya, a composite two-seater with distinctive hydrofoil wings on its forward hull. Still in development, currently in flight test (projected late-2013 delivery), two features make Akoya a standout: Seafoils and Skis-in.
Seafoils are those hydrofoil-like wings. Skis-in are snow skis integrated into the retractable gear for winter flight—and require no special modification.
The folding-wing craft has a sensual Italian-style, 180º wraparound windshield but it has some performance chops too: a range of more than 1,000 miles at a claimed 3.3 gph fuel burn and legal-LSA max speed of 120 knots (131 in Europe).
| | |
| --- | --- |
| Lisa Akoya | |
The French company, like America's Icon Aircraft, has been working on the design for several years. ASTM certification is in the works. Projected price rests currently at $370,000, landing it in the high-octane category along with another long-term project, the Terrafugia Transition flying car, last sporting a $250,000 ticket.
Lisa plans a Hy-Bird version, powered by fuel cell and solar batteries. The gas-powered model mounts a Rotax 912 ULS 100 hp engine on the tail to drive the 36-foot span, unusually high-aspect-ratio wing (18:1). Empty weight is 661 pounds, which if the company can make work, will provide a most impressive 769 pounds. useful load. Contact:
www.lisa-airplanes.com
.
Page 2 of 7
Labels:
Aviation History
,
Cross-Country Travel
,
Journeys
,
New Products
,
People and Places
,
Shows and Fly-Ins
,
New Aircraft
,
Air Shows
,
What's New
,
Aircraft
,
New Airplanes