Tuesday, August 21, 2012
Oshkosh 2012: Airborne Excitement
Aviation's Mecca thrills again with a Cub homage, 200 mph electric flight and super-new goodies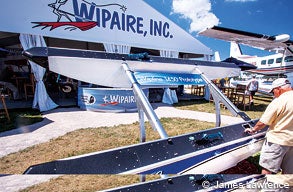 Wipaire
Wipaire Wipline 1450 Float
Veteran float maker Wipaire is diving into the LSA and light experimental market with its new 1450 all-aluminum amphibian (or straight seaplane) float. Company rep Amy Gesch said the newest member of the family will be available by the first quarter of 2013 and is meant for aircraft in the 1,600- to 1,650-pound class. That flotation embraces the entire LSA category as well as certificated aircraft that can also be flown as LSA, such as Piper Cubs and Aeroncas.
"We're so excited to get them out there and flying," said Gesch, adding that the company is working with many LSA manufacturers who will conform the floats under ASTM certification standards for existing and future customers.
Introductory price is $30,000 for the amphibs; $23,000 for the float version. Weight: 210-225 pounds. LSA regulations allow an additional 110 pounds for floats, or 1,430 pounds max, so the net detraction to useful load will be a bit over 100 pounds.
"There is a dearth of floats for LSA," said Gesch. "Rather than composite, we went with aluminum, since we have a lot of experience there and wanted to make them as light as possible." The 1450 was designed and prototyped in less than three months. Contact:
www.wipaire.com
.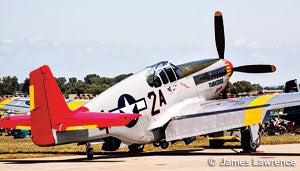 North American A-36A Invader
North American A-36A Invader
A real treat this year was the beautiful A-36A Invader, newly restored by the Collings Foundation. It's a rare warbird in spite of its instant recognizability and was a derivative of the iconic P-51 Mustang with the bubble canopy and much more powerful Rolls-Royce Merlin engine (built under license by Packard, the now-extinct auto manufacturer). The P-51D is perhaps the most-recognized fighter of World War II.
Also known as the A-36 Apache, the fighter bomber was restored by Gary Norville of American Aero Services. There are only two others in the world—and just one of those is flying. The A-36 came out after the P-51A Mustang, also called Mustang I by the RAF during the war. The Oshkosh visitor was built in 1943 (for $49,000!) but never saw combat. A total of 500 A-36s were built before the Merlin engine version variants—more than 10,000 of them, were mass produced.
The A-36's 1,325 hp Allison V12 engine (nearly 900 hp) was set up for low-altitude ground attack. The Invader had a top speed of 365 mph. The Oshkosh version was authentically done up in the markings of the 86th Fighter-Bomber Group based in Italy.
Page 3 of 7
Labels:
Aviation History
,
Cross-Country Travel
,
Journeys
,
New Products
,
People and Places
,
Shows and Fly-Ins
,
New Aircraft
,
Air Shows
,
What's New
,
Aircraft
,
New Airplanes