Tuesday, August 21, 2012
Oshkosh 2012: Airborne Excitement
Aviation's Mecca thrills again with a Cub homage, 200 mph electric flight and super-new goodies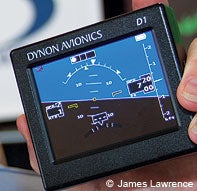 Dynon
Dynon SV-ADSB-470 And D1 Pocket Panel
Dynon's SV-ADSB-470 is a UAT Band Traffic and Weather Receiver module ($995) that brings ADS-B "in" weather, traffic and TFR readouts to its hugely popular SkyView system. Designed specifically for light-sport and experimental aircraft, the 470 taps into the aircraft power system and uses an external-mount antenna. When coupled with Dynon's Mode-S transponder module with ADS-B out, reliable traffic data is displayed on the SkyView even without a certified GPS on board.
Talk about attitude: The portable D1 Pocket Panel ($1,425) is a mini-EFIS that crams a lot of positional information into one diminutive package (3½x3¼x1 inches). The D1 displays a true artificial horizon with accurate pitch and roll; slip/skid ball; built-in GPS for ground speed, altitude, VSI (Vertical Speed Indicator), and ground track depiction; and a turn rate indicator with ticks for half-rate and standard-rate turns.
Sensing data comes via the built-in AHARS (Attitude Heading and Reference System), which includes built-in accelerometers and gyros. This little powerhouse mounts with a suction cup or a spring-loaded adapter that you squeeze and pop into a standard 31⁄8-inch steam gauge hole and release. Both mounts are included. A four-hour Li-Ion internal battery is chargeable by car-type power socket or AC charger. Contact:
www.dynonavionics.com
.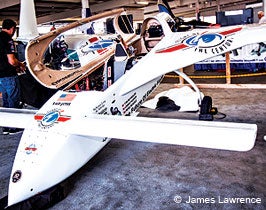 200 mph Long-EZE
200 MPH On Batteries Only?
In a modified Long-EZE homebuilt redubbed Long-ESA for Electric Speed and Altitude, champion motorcycle racer Chip Yates claimed an unofficial 202 mph speed record on July 19...and the press ate it up. The flight ended with a close-call dead-stick landing when a battery cell died. The pilot was still rolling out of a slight bank as he lined up on the runway, then dropped the Long-ESA hard onto Inyokern Airport's runway in the Southern California desert. Nothing like living dangerously. The flight's video is on YouTube.
It's all part of Yate's Flight of the Century dream project to follow Charles Lindbergh's transatlantic crossing of 1927 that changed civilization. Current technology won't support such a flight on one electric charge. Did that stop Yates? No way. He plans to "refuel" by docking with a series of several flying UAV (unmanned drone) "battery pods" orbiting at fixed points along the route. Yates has actually patented this wild idea.
He will fly a custom-designed electric plane with a 100-foot-plus wingspan. The mission will follow self-imposed constraints, including flight near the same altitudes and speeds as Lindbergh.
While the stunt may not offer a practical application, Yates maintains, as he works toward a 2014 launch, that his mission is to "force innovation that drives electric flight technology forward in a significant and measurable way." Stay tuned for this story; it should prove interesting. Contact:
www.flightofthecentury.com
.
Page 5 of 7
Labels:
Aviation History
,
Cross-Country Travel
,
Journeys
,
New Products
,
People and Places
,
Shows and Fly-Ins
,
New Aircraft
,
Air Shows
,
What's New
,
Aircraft
,
New Airplanes