Tuesday, August 21, 2012
Oshkosh 2012: Airborne Excitement
Aviation's Mecca thrills again with a Cub homage, 200 mph electric flight and super-new goodies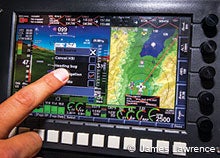 MGL Avionics
MGL Avionics iEFIS Explorer
The Explorer, first of three pressure-sensitive (even with gloves) touch-screen EFIS displays to hit the market, was in development for 18 months. Its electronic heart is the iBox EFIS, which carries pitot, static, GPS, transponder, nav/com and more serial plug-in sensory inputs and lives behind the instrument panel. Control knobs and tactile buttons allow for pilot interface with the device, no matter how turbulent the flight conditions.
Meant for the Experimental and LSA market, the noncertified package goes for $5,975, which includes the iBox.
Features include complete engine monitoring for up to a four cylinder powerplant, air-speed indication up to 250 mph and more. Additional, dedicated displays can be bought for $2,500, and come in two other sizes: iEFIS Discovery (7-inch screen) and iEFIS Challenger (10.4-inch). If you have the real estate, up to eight screens can be powered by the iBox, which cost $2,500 each.
The screens have many features to facilitate easy navigation. Just touch the instrument, drop-down menu, airport, radio interface or airport diagram you want to make it "live." Contact:
www.mglavionics.com
.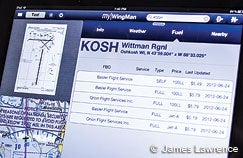 Bendix King
Bendix King myWingMan App
The avionics giant's new app, myWingMan, brings simplified flight planning and in-flight navigation support to the cockpit.
Meant for Apple iPad display tablets, the app streamlines tasks like Smart Route preflight planning, en route navigation, enhanced situation situational and positional awareness and more.
Some of the crackerjack features: customizable two- and three-way split-screen display, two Synthetic Vision views ("Chase Plane" and traditional "Forward View"), georeferenced charting, Highway-in-the-Sky guidance, internet WX access and in-flight satellite weather from WxWorx XM. There's even a G-meter.
Synthetic Vision provides pilots with real-time graphic simulations of where the aircraft is in relation to nearby terrain through a virtual 3-D view, whether by day or night, and regardless of fog, clouds or other ground-view obscuration.
Everything in myWingMan follows the intuitive Apple drag-and-drop convention for calling up features: no menu screens. VFR-only price: $99. With IFR: $149. Contact:
www.bendixking.com
.
Page 6 of 7
Labels:
Aviation History
,
Cross-Country Travel
,
Journeys
,
New Products
,
People and Places
,
Shows and Fly-Ins
,
New Aircraft
,
Air Shows
,
What's New
,
Aircraft
,
New Airplanes