Tuesday, August 20, 2013
Oshkosh Adventure 2013
Flying cars, the JetMan, a new electric airplane and fantastic weather: one of the best years ever
Eight Kids, Two Weeks, Two New Airplanes Built
Two groups of high-school students from Michigan and Minnesota each built a Glasair Sportsman as part of the company's Two Weeks to Taxi program. The high-energy fun took place at Glasair's factory in Arlington, Wash.
Build A Plane Foundation President Lyn Freeman and Peter Bunce, CEO of GAMA, partnered to create the program along with Jeppesen. The eight students were heavily involved in every aspect of the building right up to the maiden flights. The teams from Michigan and Minnesota were winners of a nationwide contest in which many high schools created virtual aircraft design in software. The final designs were voted on by a panel of GAMA judges.
The all-expense-paid trip included a visit to Oshkosh, financed by Jeppesen's CEO, Mark Van Tine. The young builders took some enjoyable breaks during the project, including a Glasair-funded trip to Boeing's nearby assembly plant and flights to a lake in a Sportsman floatplane. Contact:
www.glasairaviation.com
.
AvMap Ultra EFIS
AvMap's compact, impressive Ultra EFIS is a stand-alone, palm-sized avionics device with a lot of robustitude for its diminutiveness (5.1-ounce, 3.3-inch panel hole size). The advanced ADAHRS unit (Air Data, Attitude and Heading Reference System) connects to an onboard GPS receiver and pitot static system to provide reliable data readouts. Ultra EFIS is intended for LSA, ultralight and EAB (Experimental Amateur Built) owners, and is loaded with solid-state gyros, accelerometers, magnetic field sensors, air data sensors, and includes UAV's motion processing software.
Its sunlight-readable 960x240-pixel screen displays:
•
roll, pitch and heading
•
airspeed, altitude, heading and V-speed
•
intelligent position calculation (even without GPS input)
•
wind, side slip and vertical speed HSI (Horizontal Situation Indicator)
A micro SD memory card slot is onboard, and the Ultra integrates with the company's EKP V "Portable Glass Cockpit" GPS. Contact:
www.avmap.us
.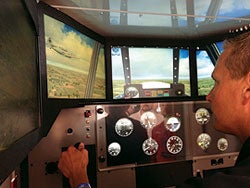 Redbird Aerostar Challenge
Redbird Aerostar Challenge Simulation
Redbird Flight Simulations was back with another hoot of a simulator experience. Last year, we chronicled their J3 Cub sim, based on the Redbird MX2 Hummingbird. The module is a single-pilot, small-footprint (8x8 feet), FAA-certified advanced training device. Multiple display screens in the enclosed cockpit recreate the sensation of flying, and the sim is really lifelike.
This year, the MX2 was mocked up as a Yak 52 as flown by the Aerostars flight demonstration team. A competition called the Aerostars flight challenge ran all week. The task: fly a "formation" simulation with the Aerostars team.
More than 350 AirVenture visitors took the challenge of a group launch, 15-, 30- and 60-degree bank turns left and right in formation and a good landing. Only 16 were able to successfully fly the entire program.
Their names went into a hat. Two winners got gaming headsets from Challenge cosponsor Sennheiser. The grand prize winners got to take the real ride with one of the Aerostars. Redbird will bring the Challenge to other air shows in the future: time to practice your sim skills! Contact:
www.redbirdflightsimulations.com
.
Page 4 of 5