Tuesday, August 20, 2013
Oshkosh Adventure 2013
Flying cars, the JetMan, a new electric airplane and fantastic weather: one of the best years ever
MyGoFlight Sight Line Display
The interesting concept here is how MyGoFlight gets around the cockpit limitations of Apple's iPad/iPhone/iPod Touch devices (shutdown from heat, reflective screen glare and poor sunlight readability) by porting critical flight information directly from any of those Apple devices onto the company's proprietary screens (measuring 10 inches or a smaller, 16x9-ratio display).
The secondary, independent screens easily attach to the glare shield or any other desired location to put them placed in the line of sight of the pilot, rather than requiring looking around the cockpit...and away from the outside view.
Both screen sizes are bright, sunlight-readable, rugged, can handle the heat (0° to 140°F), and mount anywhere, including up on the glare shield. The open architecture design allows Apple app developers to create apps for the device. An interesting wrinkle: how the Sight Line Display (SLD) takes advantage of the mirroring technology built into Apple devices. Whatever is displayed on the native iPad or iPod Touch elsewhere in the cockpit is remotely mirrored to the display. Contact:
www.mygoflight.com
.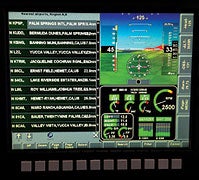 MGL iEFIS Challenger
MGL iEFIS Challenger Touch Screen
MGL Avionics adds to its iEFIS line of quality touch-screen displays with the Challenger's 10.4 inches, intended for experimental and light-sport aircraft. The Challenger's full 10.4-inch size is a step up from the 8.5-inch Explorer introduced last year. It features a bright (2000 nit) resistive touch-screen display configured for cockpit use. The system is proactive in minimizing accidental taps and swipes in turbulent conditions—a drawback of aircraft touch-screen displays—by requiring a more deliberate finger push.
The full-featured EFIS displays flight, engine, fuel and navigation data. It plugs into the "iBox" central unit and can be mixed with any other iEFIS screens (such as the Explorer), with a total capability of eight distinct display screens possible.
The Full Monty of displays is part of the iEFIS technology, including AHRS, full engine monitoring, GPS, 3D synthetic terrain with highway-in-the-sky navigation, voice alerts and a lot more. Full user customization is possible. The iBox handles all pitot/static, GPS and signal processing inputs, as well as communication with all devices via the CAN bus network. Contact:
www.mglavionics.com
.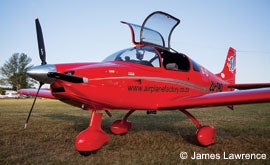 Sling 4
Sling 4 Four-Seat Kit
South Africa's The Airplane Factory, a company that likes to strap on its airplanes like seven-league boots to prove their long-distance chops, was at it again at Oshkosh.
Company founder Mike Blyth and son Greg flew their new, four-seat Sling 4 EAB kit plane from Johannesberg north to the Azores in the Eastern Atlantic, then hopped the ocean on a 1,300-mile leg to St. John's, Newfoundland. A "short" trip of several hundred miles ended at AirVenture.
I had the pleasure of flying the airplane. It's a smooth creature: very responsive yet solid and stable; great at slow flight with LSA-like stall docility. Well-appointed inside and out, the Sling 4 Kit is essentially a stretched-fuselage version of the nimble, fun-flying Sling LSA. The larger aircraft plugs in a Rotax 914 Turbo for a little extra muscle.
The company is in a bit of a niche of its own with this EAB four-seat, lightweight kit plane that cruises up to eight hours at an average 120 knots airspeed...on less than six gallons per hour! Useful payload: nearly 1,000 pounds. The gullwing-door, all-aluminum Sling 4 has been tested to beyond-normal category load limits. Back seats are roomy and comfy, and there's a baggage compartment aft with separate door access. Contact:
www.airplanefactory.com
.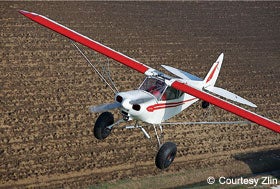 Zlin Cub-S LSA
Zlin Cub-S 180 hp SLSA
Czech maker Zlin, known for its excellent Savage line of Cub-clone LSA, has a new Super Cub-like model with a 180 hp engine and redesigned airframe. Two years of study and collaboration with veteran Alaskan bush pilots led to the finalized version, available as an LSA or EAB-built. Longer in length for greater pitch stability and with more tail surface area to handle increased engine torque, there's also a large baggage compartment. Useful load is 495 pounds, MTOW is the LSA-maximum 1,320 pounds.
The engine compartment was beefed up for the bigger, heavier Lycoming IO-320 tuned engine, which delivers some impressive performance stats:
•
2,100 fpm climb rate! (1700 at MTOW)
•
97 knots cruise on 75% power
•
34 mph stall speed, full flaps
•
four hours range
•
takeoff run: 60 feet (single pilot); 81 feet (MTOW)
Of course, if you don't want to bore vertical takeoff holes in the sky all day, there are a number of other engine packages to suit the sexy, venerable Super Cub styling of the Cub-S. Contact:
www.sportair.aero
.
Next month, we'll continue our AirVenture roundup and feature additional new products and pilot gear.
Page 5 of 5