Tuesday, May 6, 2014
Retrofit Roundup: 15 Hot Panel Upgrades
Add instant value and capability with our list of panel retrofit ideas
It's comical that when we look at an instrument panel today, the array of gear that would have launched waves of envy 10 years ago looks, sadly, like a thrift-store bargain. We smile at the quaint VOR dials and Loran units, and try to imagine how we ever got along without the magenta "direct-to" lines of our GPS or the LED readouts of our digital engine analyzers. Even standard "six-packs" are quickly fading into obsolescence. In the last decade, the floodgates of capability have opened for general aviation aircraft, and we're in the midst of an era when airliner features are available to GA aircraft owners at realistic prices.
Though "realistic" doesn't mean "cheap,"the fact remains that an owner of a legacy GA aircraft could remove two analog gauges, and slide in a glass HSI and moving-map-equipped PFD with all the bells and whistles, for less than $5,000 and replace the entire six-pack of analog instruments. In exchange, the owner gets far better reliability and accuracy, a field-upgradable unit that can be transformed into an IFR panel without removing a single screw and the situational awareness that only comes from better information at the pilot's fingertips.
Panel retrofits come in many flavors and price points, so there's something for everybody. If you want to increase the market value of your airplane with minimal hassle and investments, there are a wide variety of options available and some mind-blowing features on the market. Few things in aircraft ownership are more exciting than upgrading your panel, so let's look at the best of what's available today.

Sandia Aerospace SAI-340 Quattro
Sandia Aerospace SAI-340 Quattro
www.sandia.aero
The SAI-340 Quattro is a digital backup for steam-gauge instruments in EFIS-equipped aircraft. The compact, lightweight (it weighs half a pound) unit was in development for the last two years and displays indicated airspeed, altitude, roll and pitch, and an inclinometer (ball) to show slips and skids. The display is bright and crisp, and features easy-to-read graphics, especially for those of us with "over-40" vision. As a stand-alone backup, the Quattro incorporates a rechargeable lithium battery, giving it about two hours of life depending on several factors, with a minimum duration of 30 minutes. The unit includes both automatic and manual backlight control, internal battery charge status display and a panel-tilt configuration. A single knob on its face allows selection of the altimeter setting (barometric pressure). The Quattro fits in a standard three-inch instrument hole and has an MSRP of $3,595.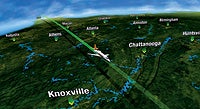 Rockwell Collins Airshow 500
Rockwell Collins Airshow 500
www.rockwellcollins.com
From the "cool" department comes the Airshow 500. This is the first 3D moving map system for light business jets. A modernized, lighter-weight drop-in replacement for the Airshow 410 unit, Airshow 500 comes fully loaded with worldwide maps that utilize NASA's Blue Marble map data. "Blue Marble" is the name of NASA's newest generation of stunning earth images, collected from their network of 18 highly advanced satellites. The unit's maps include a variety of 2D and 3D views, international language selection, "Fasten Seat Belt" and "No Smoking" briefings, and a lot more. The Airshow 500 supports SD-SDI, VGA and NTSC video output to a wide variety of cockpit displays. It works with Rockwell Collins' "Airshow interactive" app for the iPad, allowing passengers to take advantage of the industry's first panorama view, which displays a moving map of the outside world from any direction the iPad is pointed.
Page 1 of 5