Wednesday, September 1, 2004
Sept-Oct 2004 On The Radar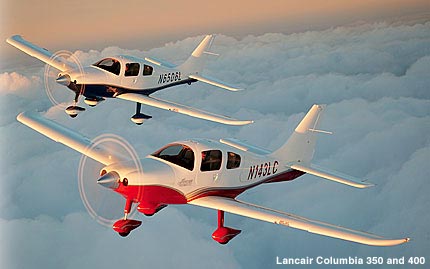 If you've been wondering if this tsunami of new technology that's been threatening to forever change the way we fly is just a passing fancy, the news is now clear: Every major airframe manufacturer has announced they're presently or will shortly begin shipping airplanes featuring glass panels. Cessna Aircraft Company (
www.cessna.com
) just received the FAA's blessing to begin delivering Garmin (
www.garmin.com
) G1000-equipped Skylanes, both turbocharged and normally aspirated models. Upgraded Skyhawks and Stationairs are expected to follow shortly, and Cessna also has committed to the Garmin glass for the coming Mustang jet. Diamond Aircraft (
www.diamondair.com
) is shipping its composite four-seat DA40s with the all-glass Garmin panels, and also is saving panel space in the new DA42 TwinStar. Mooney Aircraft (
www.mooney.com
) expects to deliver G1000-equipped Mooney Ovation2 GX and Bravo GX airplanes before the end of the year, and Raytheon (
www.raytheonaircraft.com
) announced its intention to include the G1000 in the Beechcraft Bonanza A36 and Baron 58. Tiger Aircraft (
www.tigeraircraft.com
) also has plans for a Garmin glass model soon.

Cessna Skylane

Mooney Ovation2 GX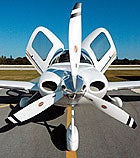 Cirrus SR22-G2

Diamond DA40 Star

Cirrus SR22-G2
Avidyne (
www.avidyne.com
), the other major player in the rush to transform general aviation to glass, is building a growing list of original equipment manufacturer clients as well. Cirrus (
www.cirrusdesign.com
), makers of the SRV, SR20 and SR22-G2, which has been in the Avidyne camp for some time now, equips all of its aircraft with the Avidyne FlightMax Entegra primary flight display and its multi-function counterpart, the EX500. New Piper Aircraft (
www.newpiper.com
) has chosen Avidyne as well, as has Lancair (
www.lancair.com
) for its newly certified Columbia 400 and normally aspirated Columbia 350. Avidyne recently announced that its PFD/MFD glass panel has just added a few new talents. The company will now provide XM Satellite Weather downloads, bringing NEXRAD, METAR, SIGMET, TFRs and lightning updates to the cockpit. With the addition of XM, the Avidyne system allows pilots to have both ground-based and airborne lightning detection, or a combination of both. Also big on the list of coming attractions from Avidyne is the addition of a flight director and TAWS (terrain awareness warning system).
Glass systems seem to be equally pervasive in the higher-performance aircraft markets as well. Meggitt/S-TEC (
www.magic.aero
), who makes MAGIC (Meggitt Advanced Generation Integrated Cockpit), announced it has installed more than 250 of its glass-paneled units within the preceding 24 months in aircraft ranging from New Piper Meridians to King Airs. Chelton Flight Systems (
www.cheltonflightsystems.com
), the only manufacturer to date to have been awarded FAA certification for Synthetic Vision and the Highway-in-the-Sky (HITS) technology is working around the clock on both civilian and military projects. The Chelton system provides the pilot with a three-dimensional view of the terrain outside the cockpit window—in VFR or IMC conditions—then projects a series of concentric boxes leading from the airplane's current position all the way to the destination airport. The pilot's job is to merely keep the tiny aircraft depicted on the Chelton screen flying through the boxes, simultaneously guaranteeing terrain clearance as well as on-course steering. Both the Meggitt/S-TEC and Chelton systems are developing a long list of STCs allowing retrofits into aircraft in need of a panel upgrade.
Page 1 of 3