Thursday, September 1, 2005
Sept-Oct 2005 On The Radar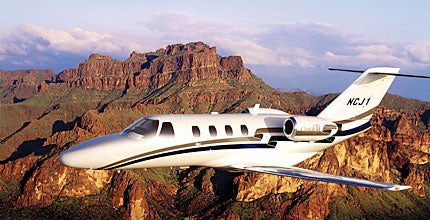 The Jet Set Moves Forward
It's always a bit mind-boggling when Cessna finds ways to improve the most popular line of jets in the world, but once again, that's exactly what it has done. A new and improved Model 525 Citation CJ1+ has earned FAA certification and is headed to a runway near you before the year's end.

The single-pilot CJ1+ cruises 20 knots faster and shaves half an hour off the time to climb to FL410, thanks to two new Williams FJ44-1AP dual-channel FADEC-controlled engines. The new plus version also offers 80 pounds more useful load.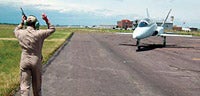 The expanded standard equipment includes the Collins Pro Line 21 avionics package. For more information, contact the Cessna Aircraft Company at (800) 4-CESSNA or log on to www.cessna.com.

Cessna's entry in the very light jet (VLJ) category, the Mustang, is throttled up for flight testing, hoping to best contenders Eclipse 500 and Adam 700 (see the article "VLJs Turn Short Final" on page 46) in the race for certification later next year. But the hands-down winner for sex appeal could very well go to that of the Aviation Technology Group (ATG). The two-seat, twin-engine Javelin Jet has multiple personalities—one as a homeland defense military patrol aircraft, and the other as the top choice for pilots who want to fly a fighter. Company engineers already are running ground tests with the Javelin's Williams International FJ33-4-15M, running them to full power. The aircraft already has performed its initial taxi tests with flying colors. Expect the Javelin to be on your six in late 2007. For more information, call ATG at (303) 799-4197 or log on to www.avtechgroup.com.

In the meantime, you don't have to go to Area 51 to see a secret jet in testing. Residents of North Carolina have watched the secret HondaJet coming and going from the Greensboro Airport since December 2003. Now, the VLJ contender finally came out of the closet at this year's EAA AirVenture in Oshkosh, Wis., showing off its dual Honda HF-118 engines, natural laminar flow wing and advanced lightweight all-composite fuselage. For more info, contact Honda Motor Co., Ltd., at +81-(0) 3-3423-1111 or log on to http://world.honda.com.

Page 1 of 4