Thursday, September 1, 2005
Sept-Oct 2005 On The Radar
And who knew that sailplane makers could get turbine envy? Germany-based glider manufacturer Grob revealed its intentions to launch a new bizjet, the Grob SPn Utility Jet. According to the company, the new single-pilot jet will combine "the performance and passenger comfort of a light business jet with the operational versatility of a turboprop." The Grob jet will feature an all-composite airframe, with two FADEC-controlled FJ44-3A turbofan engines. Performance projections include a balanced field length of 3,000 feet, an 1,800 nm range with six passengers on board and a max payload of 2,491 pounds. Grob expects FAA certification by the second quarter of 2007. For updates, e-mail Grob at This e-mail address is being protected from spambots. You need JavaScript enabled to view it or log on to www.grob-spn.com.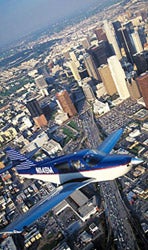 The Commander Flies Again
A group of more than 50 Commander aircraft owners have recently made a bold and unprecedented move: They bought all of the failed aircraft manufacturer's assets in the hopes of continuing airframe production plus support for parts and service. They're calling the newly formed company Commander Premier Aircraft Corporation (CPAC).

"This is the first time that I've seen a group of product owners actually commit to buy the assets of a defunct company and reestablish operations to produce the product they love," says Bob Tippens, a director at CPAC. The company expects to be in operation by early 2006. Call CPAC at (860) 678-7800 or log on to www.commanderair.com for more information about this new company.
Page 2 of 4