Friday, September 1, 2006
Sept-Oct 2006 On The Radar

The crown jewel of New Piper Aircraft's piston singles, the Mirage, has made its debut with the all-glass Avidyne Entegra panel. Its first cousin, the turbine-powered Meridian, made the conversion earlier, making the Vero Beach-based aircraft manufacturer all glass, all the time. " />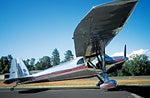 Luscombe 8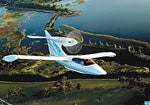 Seawind 300C
After showing off the new 237-knot, turbonormalized Acclaim at Sun 'n Fun, the Kerrville Kids have started the drumrolls for the 310 hp Ovation3. As the name implies, the new Mooney is a derivation of the popular Ovation2, with just a few more horses under the hood. The normally aspirated Teledyne Continental IO-550-G A/P engine develops 310 hp (about 30 more than the Ovation2), which results in a nine-knot increase in airspeed. Mooney now reports a 197-knot max cruise for the Ovation3 and claims the plane is the fastest normally aspirated single. The company also touts the Acclaim as the fastest turbo-normalized single. Visit Mooney's Website,
www.mooney.com
, to learn more.
You'd think that Mooney's Kerrville, Texas-based factory would be the facility most likely to report a hailstorm. Recently, however, a record- and windshield-breaking frenzy of hailstones the size of golf balls dumped onto, into and all around the Columbia Aircraft factory in Bend, Ore. Trouble is, the company had a lot of new Columbia models sitting outside when the freak storm blew through, and when it was all over, 66 aircraft had been damaged. The damage was all cosmetic, but customers will now have a wee bit more waiting to do before they get their airplanes. Columbia is giving each customer $5,000 worth of free fuel and a chance to win as much as $25,000 worth of fuel as a thank you for the extra wait imposed by Mother Nature. Learn more at
www.flycolumbia.com
.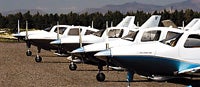 At last, the Seawind amphibian is in flight testing. The first complete conforming prototype is in the air and should pave the way for final certification and customer deliveries "by the winter," the company reports. "Much of the work to satisfy the feds is already complete," spokesman Bill Poirier says; however, spin testing has just begun. For more, visit Seawind's Website at
www.seawind.biz
.
The American Legend Aircraft Company has built, well, another legend, the Legend Combat. The Sulphur Springs, Texas, manufacturing facility is the birthplace of the wildly successful Legend Cub, the light sport aircraft classic cub-homage. A few months ago, they introduced the "Combat," another two-place tube-and-fabric LSA, this time with a military paint scheme. Both aircraft come with a variety of standard features, including doors on both sides, an electrical starter and an American-made 100 hp Continental O-200 engine. Options include choices on interiors, avionics, wheels, floats, props and more. See it all at
www.legend.aero
.
Page 2 of 4