Saturday, September 1, 2007
Sept-Oct 2007 On The Radar

On June 28, Cirrus Design Corporation finally lifted the veil on "the-jet," the much-anticipated clean-sheet design for its "personal jet." "We're calling it a 'personal jet' not because of its size, but because it's a natural extension of our SR22 line," said Cirrus cofounder and CEO Alan Klapmeier. "Like the SR22, the-jet is designed to be owner flown, and it will be loaded with innovative features, including the Cirrus Airframe Parachute System. While it's technologically advanced, it's also designed to be exceptionally easy to fly, offering customers the opportunity to grow into yet another lifestyle change with Cirrus." " />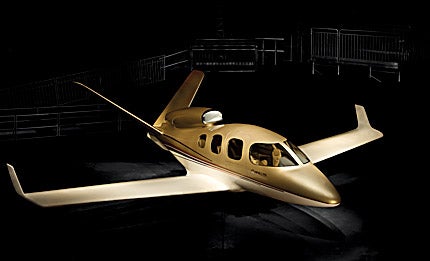 Cirrus Unveils "The Jet"
On June 28, Cirrus Design Corporation finally lifted the veil on "the-jet," the much-anticipated clean-sheet design for its "personal jet."
"We're calling it a 'personal jet' not because of its size, but because it's a natural extension of our SR22 line," said Cirrus cofounder and CEO Alan Klapmeier. "Like the SR22, the-jet is designed to be owner flown, and it will be loaded with innovative features, including the Cirrus Airframe Parachute System. While it's technologically advanced, it's also designed to be exceptionally easy to fly, offering customers the opportunity to grow into yet another lifestyle change with Cirrus."
Cofounder and Vice Chairman Dale Klapmeier commented, "We're in the early design and development phase and don't want to limit ourselves in any way. It's also important that any data we release is absolutely accurate." There are many more details to be announced, and information will be released as it's finalized. "So far, we can confirm that the-jet will be powered by a quiet, efficient and lightweight Williams jet engine that will give the aircraft great utility, economy and simplicity never before seen in this market," Klapmeier concluded.
Vice President of Advanced Development Mike Van Staagen added, "The flexibility [of the-jet] is even more surprising given this airplane is designed specifically for a single owner/operator. The design is precisely configured to maximize flexibility for the owner. Mountain bikes, camping equipment, golf clubs, skis, bigger families, antique spinning wheel? No problem! The-jet will deliver more value because its cavernous interior accommodates very diverse usage, and while doing this all at about 300 knots." Jet on over to
www.cirrusdesign.com
for more information.
Page 1 of 6