Saturday, September 1, 2007
Sept-Oct 2007 On The Radar

On June 28, Cirrus Design Corporation finally lifted the veil on "the-jet," the much-anticipated clean-sheet design for its "personal jet." "We're calling it a 'personal jet' not because of its size, but because it's a natural extension of our SR22 line," said Cirrus cofounder and CEO Alan Klapmeier. "Like the SR22, the-jet is designed to be owner flown, and it will be loaded with innovative features, including the Cirrus Airframe Parachute System. While it's technologically advanced, it's also designed to be exceptionally easy to fly, offering customers the opportunity to grow into yet another lifestyle change with Cirrus." " />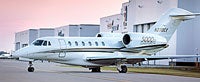 Cessna Delivers 5,000th Citation
Cessna Aircraft Company has rolled out its 5,000th Citation business jet—a Citation X. Citations now account for nearly half of all jets delivered by U.S. manufacturers. To celebrate this milestone, Cessna will display the aircraft at various air shows and events this year, including the annual National Business Aviation Association (NBAA) meeting (September 25–27). The 5,000th Citation will be delivered to one of Cessna's largest customers—XOJET—later this year.
"The 5,000th Citation is an exciting milestone to reach in our 80th year of business," said Chairman, President and CEO Jack J. Pelton. "The Citation line provides more business owners with the convenience of point-to-point travel than ever before. From the Mustang—providing a fast, efficient and cost-effective way to travel—to the fastest civil aircraft currently in production, the Citation X, our Citation line offers the widest range of business jets in the market today."
Cessna also delivered the 7,500th single-engine piston aircraft produced at their Independence, Kans., facility. The aircraft is one of 11 Model 172 Skyhawks being delivered over the next 14 months to Northwestern Michigan College. "This milestone is significant as a tribute to the timelessness of the Skyhawk's design, and to the consistent excellence of assembly that allows us to remain not just competitive but an industry leader," said Rod Holter, general manager of Cessna's Independence facility.
Recently, Cessna's Citation Mustang gained European Aviation Safety Agency (EASA) type certification, making it the world's first entry-level business jet to gain both U.S. and European certification. The Mustang also gained approval to land at airports with instrument approaches steeper than a 4.5-degree approach angle. Steep Approach certification is the first step in the approval process at airports such as London City in England, which has a glideslope angle of 5.5 degrees, and requires special authorization through the airport administration for both aircraft and pilots landing there. Deliver yourself to
www.cessna.com
.
Page 2 of 6