Saturday, September 1, 2007
Sept-Oct 2007 On The Radar

On June 28, Cirrus Design Corporation finally lifted the veil on "the-jet," the much-anticipated clean-sheet design for its "personal jet." "We're calling it a 'personal jet' not because of its size, but because it's a natural extension of our SR22 line," said Cirrus cofounder and CEO Alan Klapmeier. "Like the SR22, the-jet is designed to be owner flown, and it will be loaded with innovative features, including the Cirrus Airframe Parachute System. While it's technologically advanced, it's also designed to be exceptionally easy to fly, offering customers the opportunity to grow into yet another lifestyle change with Cirrus." " />
Certification and deliveries of the King Air C90GTi are on track for the fourth quarter of 2007. Pursuit of international certifications will immediately follow with the European Aviation Safety Agency (EASA); Brazil, Mexico, Canada, Venezuela and Guatemala are expected by the end of the year.
Built using the proven and reliable design of the Beechcraft King Air C90 series airframe, the Beechcraft King Air C90GTi seats up to seven in a roomy, squared-oval cabin that allows greater passenger headroom. It also has a heated and pressurized baggage storage area that's easily accessed during flight and a fully enclosed aft private lavatory. The rugged, performance-orientated C90GTi also provides operators with the versatility to land on short runways or unimproved strips, where most jets are unable to land. Being a turboprop, the Beechcraft King Air C90GTi is incredibly fuel-efficient with low operating costs. For more information, visit
www.hawkerbeechcraft.com
.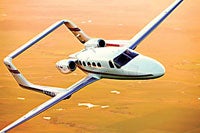 Chinese Enterprise Orders 50 Adam Aircraft A700s
Adam Aircraft announced that Hainan Zhong Hang Tai General Aviation Airlines, the Hainan, China-based operating entity of Ameritech Aerospace, has placed a firm order for 50 Adam Aircraft A700 VLJs. "The business plan of the Chinese company has been developed with the goal of capitalizing on China's fast-growing general aviation market, with fractional-share programs and air-taxi operations in mind," said Jason Fan, CEO of Hainan Zhong Hong Tai General Aviation Airlines Ltd. "Due to the immediate charter and air-taxi growth opportunities in China, we made the A700 our choice because it has the largest cabin space of all the VLJs. In addition, the aircraft combines prestige, luxury and speed with its innovative twin tails, which remind people of a Formula 1 race car."
Hainan Zhong Hang Tai General Airlines Ltd. plans to sell the A500 and A700 aircraft for Adam Aircraft and provide lease-back options to owners for air-taxi operations following delivery of the roomy, carbon-fiber A700 in 2008. For more information, log on to
www.adamaircraft.com
.
Page 5 of 6