Monday, September 1, 2008
Sept-Oct 2008 On The Radar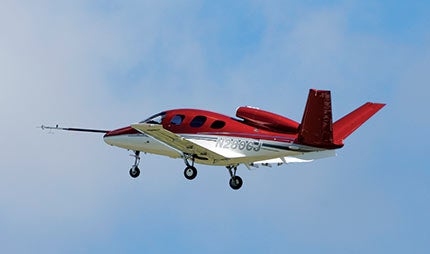 The most highly anticipated aircraft in Cirrus Design Corporation's history, "the-jet," made its inaugural flight on July 3. The 45-minute flight was conducted from the company's headquarters at Duluth International Airport in Duluth, Minn. The aircraft performed flawlessly. Designed with the Cirrus signature full-airframe parachute system, the aircraft looked beautiful in its red and white paint (the model and mock-up have been displayed in gold and white), and its roof-mounted Williams FJ33-4A-19 put a 1,900-pound blast through the "V" of the distinctive tail.

Just one week after its initial flight, the single-engine personal jet received its official name, "Cirrus Vision SJ50."

"The name 'Cirrus Vision SJ50' represents a natural extension of Cirrus' vision to build the ultimate personal transportation machine," said Cirrus CEO Alan Klapmeier. "With the Cirrus Vision, we're providing an entirely new transportation option for personal and business travel. It's a smarter, simpler and more efficient way to travel and holds the unique promise of redefining general aviation."

Backed by more than 400 (refundable) deposits of $100,000, the Cirrus Vision should begin deliveries in 2011. The aircraft blends the best of both the high-performance single-engine class and the VLJ category. With seven seats (including two stowaway seats), the machine is designed to provide capacity and economy, and to be the logical step-up from the SR20 and SR22 piston singles. Visit www.cirrusdesign.com.


Page 1 of 5