Monday, September 1, 2008
Sept-Oct 2008 On The Radar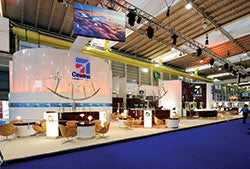 Cessna's Millions
At May's EBACE (European Business Aviation Convention & Exhibition) in Geneva, Switzerland, Cessna received three-quarters of a billion dollars in orders, led by 70 signings for Citations of various sizes. Fourteen new Caravans and four single-engine, piston aircraft also found new homes. Cessna's biggest single client was Austria-based JetAlliance, a charter jet company that placed 24 orders; Dexter, a Russian air-taxi operator, purchased 20 C-510 Citation Mustangs. Cessna's main propeller-powered aircraft customer was Air Alliance GmbH, accounting for a C-172, a C-182 and six Grand Caravans.

Roger Whyte, senior vice president of sales and marketing, said, "Our sales and marketing team in Geneva, as well as the support staff in the United States, worked hard to close these deals and make this one of our most successful appearances at EBACE." Acknowledging that it's good to have whatever the customer wants, he added, "It's key to note that these orders encompassed our entire Citation line and involved our piston and turboprop models, as well. Our broad product range allows us to match aircraft to any mission our customers have." Learn more at www.cessna.com.
Sierra's Super II Passes Noise Test
Now nearing the end of its FAA flight-testing, the Sierra Super II from Sierra Industries finished FAR 36 and EASA/ICAO noise testing on May 19, completing all required noise certification and "high-risk" flight tests, including single-engine takeoff, climb rate and landing. In previous tests, the aircraft documented a cruise speed of 404 KTAS; the Super II's certified maximum speed will be 416 KTAS.

The Super II STC features twin Williams FJ44-3 engines rated at 2,820 pounds to boost fuel efficiency by as much as 27%, cut climb time to FL430 to under 25 minutes, extend range to nearly 1,800 nm and increase maximum fuel payload. In addition to increased climb rates, the Sierra is achieving reductions in takeoff roll of more than 20% (elevation 5,000 feet, ISA 20 degrees F). Dual-channel FADEC control promises additional passenger comfort and reduced pilot workload.

The Super II development program is leveraged by Sierra's FAA- and EASA-approved Eagle II and Stallion modifications, which also utilize Williams FJ44 advanced turbofan engines. Sierra's next reengining program involves the 2,820-pound-thrust Williams FJ44-3A and the Cessna S550 Citation S/II; FAA approval is expected shortly after finalizing the Super II STC. Visit www.sijet.com.

Page 2 of 5