Monday, September 1, 2008
Sept-Oct 2008 On The Radar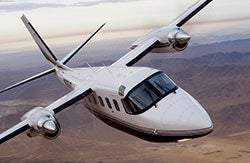 Aerocentro Honored By Twin Commander
At Twin Commander's annual Service Center Symposium, Aerocentro de Servicios, C.A., of Caracas, Venezuela, one of Twin Commander's 22 worldwide factory-authorized service centers, received the 2007 "Service Center of the Year" award for its "outstanding support and leadership of the Twin Commander Aircraft fleet." Factory officials, service center managers, maintenance chiefs and technicians met at Roche Harbor Resort on San Juan Island, Wash., to evaluate new product needs, parts inventory and pricing, and to address technical and service issues affecting the worldwide Twin Commander fleet.

This year's symposium drew representatives from service centers in Australia, Venezuela and Mexico, plus a full contingent from U.S.-based service centers. The effort paid off, according to Twin Commander President Jim Matheson.



"Supporting our owners and operators with parts, service and technical information is our only business," Matheson explained, "so it's crucial that the entire Twin Commander family, especially our authorized service centers, communicate and work cooperatively. We're able to achieve those objectives largely through efforts like the Service Center Symposium."

Aerocentro General Manager Luis Nunez accepted the award. The next symposium will be held immediately prior to the 2008 Twin Commander University, which will take place in May 2009 in Scottsdale, Ariz. Learn more at www.twincommander.com.
Page 4 of 5