Wednesday, September 9, 2009
Sept-Oct 2009 On The Radar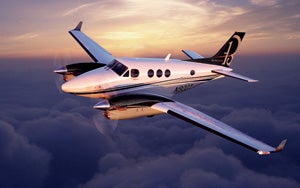 Hawker Beechcraft Launches King Air C90GTx
Hawker Beechcraft Corporation has launched its new Beechcraft King Air C90GTx, which marks the eighth major King Air upgrade the company has introduced since 2003. "The C90GTx is the latest example of our commitment to keeping the Beechcraft King Air family [as] the most successful turboprop lineup in aviation history," said Bill Boisture, Hawker Beechcraft's chairman and CEO. Key enhancements to the new C90GTx include an increase in gross weight and the addition of composite winglets. The C90GTx's maximum ramp and takeoff weights have been increased by 385 pounds to 10,545 and 10,485 pounds, respectively. This increase in maximum weight provides the new C90GTx with a full-fuel payload of more than 750 pounds. The C90GTx will be available beginning in early 2010. Visit
www.hawkerbeechcraft.com
.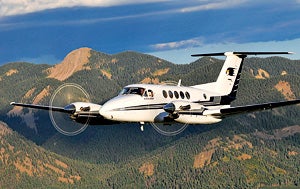 Financing Option & Caravan Upgrade From Blackhawk
Blackhawk Modifications' new Engine Financing Program offers up to 100% financing to qualified U.S. buyers. The program may include the price tag, shipping fees and installation costs for factory-new Pratt & Whitney PT6A engines. Terms of the program allow qualified customers to finance their engine purchase using a 15-year fully amortized loan schedule with a balloon payment due after five years. Furthermore, the tax savings under the American Recovery and Reinvestment Act of 2009 may offset the monthly payments made in 2009. This program is available for engine models PT6A-61, -52, -42 and -135A. Operators of Cheyenne I, II and IIXL and the Conquest I should contact Blackhawk to discuss their financing options on a case-by-case basis.
Additionally, Blackhawk's new 850 shp Pratt & Whitney PT6A-42A engine provides an extra 175 shp to the Cessna Grand Caravan. Among other benefits, it provides a 15% increase in cruise speed and a 5% increase in gross takeoff weight. Certification is expected in Q4 2009. "This engine is a game-changer for the 'workhorse' Caravan—now it's a powerhouse performer with incredible flexibility," said Blackhawk President and CEO Jim Allmon. Visit www.blackhawk.aero. TCM FADEC Certification
Teledyne Continental Motors (TCM) has received FAA certification on TSIOF-550, its first Full Authority Digital Electronic Control (FADEC) turbocharged engine. "We developed and certified the Turbo FADEC 550 in response to requests from airframe manufacturers wanting a high-horsepower-engine offering that's mated with advanced electronic engine controls," said TCM President Rhett Ross. The TSIOF-550 provides 350 hp at 2,600 rpm and a 22,000-foot critical altitude. An experimental version of the TSIOF-550 has been flying on a Lancair IVP for more than 550 hours. It has enabled the aircraft to achieve economy cruise speeds of 255 knots with a 17.5 gph fuel burn. Visit www.teledyne.com.
Page 2 of 3