Tuesday, July 28, 2009
September 2009 Readback
PRODUCT PREVIEWS

Hands-Free Lighting Where & When You Need It
One issue many pilots face with aging GA aircraft is inadequate interior lighting. Flashlights help, but using them keeps a pilot's hands busy. Pilot Light Pro (powered by two AA batteries yielding a life of about 19 hours) and Map Light Pro (powered by two AA batteries yielding 24 hours of use) are designed to light up an airplane's cockpit while keeping the pilot's hands free to fly and navigate. Contact: Make-It Manufacturing, (805) 237-8800,
www.pilotlightpro.com
.

Get The Best Learning Experience!
AMT Graphics–Textbook Images is a CD-ROM of PowerPoint slides that includes all of the figures, tables and charts found in ASA's AMT textbooks by Dale Crane. Now all in full-color, the images are a powerful visual training tool for AMT classroom instruction, adding professionalism, organization and clarity to any presentation. Contact: ASA, (800) ASA-2FLY,
www.asa2fly.com
.

Flight Plan On Your iPhone
ForeFlight is an iPhone application that's for flight planning; it features weather information, such as METARs and TAFs, and airport resources, such as diagrams and FBO data. Version 2.3

is available and includes terminal procedures, full-screen and rotatable weather views, a customizable tab bar, and more than 3,000 additional airport thumbnail diagrams. Contact: ForeFlight, (866) 701-6529,
www.foreflight.com
.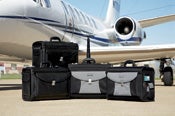 Carry The Right Case!
Pilots require special storage options, and Sporty's designed its new line of Chart Cases specifically for aviators. The cases have exterior pockets for a cell phone, pens and IDs, and a large side pocket for radios, logbooks or checklists. A locking, gusseted file folder on the front holds flight plans, weather printouts, etc. The classic case and XL rolling case come in either leather or nylon. Contact: Sporty's, (800) SPORTYS,
www.sportys.com
.

Custom Key Fobs & Necklaces
PilotMall.com offers a new line of custom two-tone pendants and key fobs for pilots. Customers can choose semi- and full-custom designs, and each pendant or key fob is made from 925-grade sterling silver with 14K gold aircraft silhouettes. Contact:
PilotMall.com
, (800) 249-5730,
www.pilotmall.com
.
Page 3 of 3