Tuesday, July 29, 2014
September 2014 Readback
First Production HondaJet Makes Initial Flight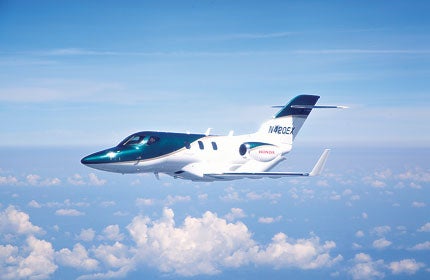 Honda Aircraft's first production HondaJet achieved its initial flight, marking another milestone toward aircraft certification and entry into service in 2015. The event took place at the company's world headquarters in Greensboro, N.C. "With this first flight, the HondaJet program has entered the next exciting phase as we prepare for delivery," said Honda Aircraft CEO Michimasa Fujino. "Today's celebration is the culmination of extensive engineering and production efforts, and this is an important achievement in bringing the world's most advanced light jet to market." The first production aircraft lifted off from the Piedmont Triad International Airport at 10:18 a.m. EDT. During the 84-minute flight, the aircraft climbed to 15,500 feet and reached a top speed of 348 KTAS. Following a smooth landing, the aircraft and its crew were greeted by more than 1,000 Honda Aircraft team members to commemorate the milestone. The aircraft was flown by test pilot Warren Gould, pilot-in-command. The crew completed several checks during the flight, such as low- and high-speed handling characteristics, avionics and system functionality, including landing gear, flaps and speed brake operations. Visit
www.hondajet.com
.
Elite Simulation Centers Debut
Elite Simulation Solutions announced the opening of the first international Elite Simulation Training and Safety Management Centers in Orlando, Fla., and Dubendorf, Switzerland. Elite training centers are multifaceted Aviation Resource Learning Centers or, as described by CEO John Dixon, "a mental gymnasium for pilots that will foster a culture of safety, proficiency and confidence in the flying community. Since flying aircraft are exercises in risk management, learning and staying proficient is crucial for managing aviation safety. Our goal is to provide an atmosphere and the resources that will contribute to the safety, proficiency and confidence of all pilots." The Centers feature FAA approved training devices that range from simple, complex, twin piston and twin turbine airplanes to helicopters of twin turbine, single turbine and piston design. The Center also has classrooms, conference rooms, a resource library and testing facility. Visit
www.ELITESimCenters.com
.
Quicksilver Awarded Special LSA Certificate
Quicksilver Aeronautics reached an important milestone with the receipt of an airworthiness certificate for its first-ever Special Light-Sport Aircraft. Now that Quicksilver has earned FAA acceptance to produce their Sport S2SE model as a fully built LSA, the company will begin using three manufacturing locations in the United States, a method allowed under the ASTM Industry Consensus Standards program and FAA regulations. Aside from the Temecula, Calif., factory, other manufacturing facilities have been established in Reserve, La., at the St. John airport led by longtime dealer Gene "Bever" Borne and in Rochester, Minn., under the direction of former sales manager, Todd Ellefson. Visit
www.quicksilveraircraft.com
.
Cessna Citation M2 Receives EASA Certification
Cessna Aircraft received European Aviation Safety Agency (EASA) certification for the Citation M2 jet, paving the way for deliveries to begin immediately. "We have had significant interest from European customers for the Citation M2 due to its size, speed and range," said Chris Hearne, vice president, Jets. "This aircraft can easily handle nonstop legs throughout the region, such as Paris to Athens or Zürich to Moscow." The Citation M2 design was driven by customer and pilot feedback. First flight of the Citation M2 prototype occurred in March 2012, and the first production unit flew in August 2013. The aircraft received FAA certification in December 2013, and 23 have been delivered through the first quarter of 2014. Visit
www.cessna.com
.
2014 Valdez Fly In
More than 250 planes traveled to Valdez, Ala., for the 11th annual Valdez Fly In, and a crowd in excess of 2,500 was on hand to witness the festivities. Frank Knapp of Palmer defended his title in the Alternate Bush class with the best overall score for the STOL event—a takeoff of 41 feet and a landing of 35 feet, for a combined score of 76 feet. Josh Pepperd impressed the crowd with a 37-foot takeoff for the shortest of the event in the new SQ12 to take second place. The Bush Class was a family affair as Bobby Breeden won his third straight contest with a 61-foot takeoff and a 55- foot landing for a combined score of 116 feet. His dad Bob was just behind with a score of 119 feet. Paul Claus took third with a score of 167 feet. Competition results and links to videos can be found at www.valdezflyin.com. Planning is already underway for the 12th Annual Fly In on May 8-10, 2015. For more information, email Joe Prax at This e-mail address is being protected from spambots. You need JavaScript enabled to view it .
Trig Avionics Partners With NextGen Fund
Trig Avionics, which makes transponders, has become a NextGen GA Fund Partner. This fund provides customers with access to a comprehensive loan scheme. This is specifically designed to help GA aircraft owners pay for their ADS-B equipment and related installation costs. User-friendly financing packages are available to customers via an online application process. Typically, loans in excess of $10,000 are available to help pilots manage the costs of becoming ADS-B capable. The NextGen GA Fund has been created in direct response to the Department of Transportation's drive to encourage the flying community to equip for ADS-B Out. Visit
www.trig-avionics.com
and
www.nextgenfund.com
.
Page 1 of 2