Tuesday, April 22, 2014
Sun 'n Fun Roundup 2014
Starting the air show season right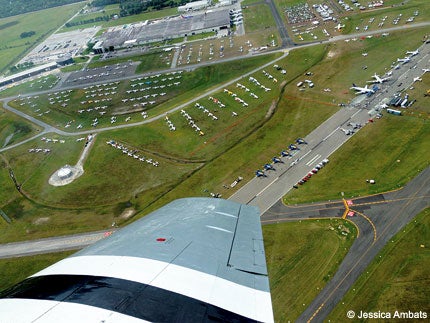 Stallion 51's Mustang, Crazy Horse, arrives at Lakeland, Fla., with a view of the Sun 'n Fun ramp.
Fantastic weather, thrilling shows by the Blue Angels, record-setting crowds and a visit from the governor: The 40th Sun 'n Fun Fly-In, held April 1-6 in Lakeland, Fla., had much to celebrate this year. As we went to press, preliminary figures on attendance "was 15 to 20% higher than any gate we've ever had," said Communications Director Sandy Bridges, estimating 225,000 visitors and 11,000 aircraft movements during the show. That attendance will translate into more aviation for youngsters.
"We're a 501(c)3, and all our money goes back into education," said Bridges. "So this is a spring break for pilots, but it's not just a spring break. We've paid for 18 students to get their pilot's licenses over the past year. That's what everyone here is helping with."
Rick Scott, making the first Sun 'n Fun visit by a governor of the state, spent two-and-a-half hours enjoying the sights and sounds. "He was overwhelmed," said Bridges. Also overwhelmed: Sun 'n Fun president John "Lites" Leenhouts. "You all did such a good job, you're going to have a tough act to follow next year," he told volunteers at the show's conclusion.
In addition to the air show and static displays, the workshops and evening programs, exhibitors showcased their wares and introduced new offerings. Here's a roundup of some of the most exciting products and services new to this year's show.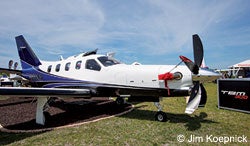 Daher-Socata TBM 900
Daher-Socata TBM 900
www.tbm.aero
The TBM 900, the newest version of Daher-Socata's sleek and sporty turboprop single, made its public debut at Sun 'n Fun. (See Pilot Report on page 24.) Top cruise speed has been upped to 330 knots, the takeoff roll shortened and time to climb decreased, thanks to aerodynamic refinements and firewall-forward enhancements. A new composite five-blade Hartzell prop acts like a turbocharger, driving air into the intake bowl, and winglets improve low-speed handling qualities. The French OEM has also restyled the interior to invest more of a sporty ambiance to the cabin. The four-place seating is completely reconfigurable; any or all of the seats can be quickly removed, or positioned in club or commuter (all forward facing) arrangement. The cockpit features a restyled panel and improved soundproofing, and a quieter engine lowers sound levels inside and out. Priced at $3.71 million.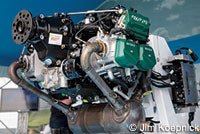 Rotax 912 iS Sport
Rotax 912 iS Sport
www.flyrotax.com
Rotax introduced an updated version of its fuel-injected 912 iS engine, the 912 iS Sport. The iS Sport delivers shorter takeoff roll, better climb rate and faster cruise speed, while reducing fuel consumption more than 20% over the iS, according to Christian Mundigler, manager of Rotax Aircraft Engine Sales. Once power is below 97%, the engine can be switched from power mode to a fuel-saving ECO mode for maximum economy. "Even in the power mode, it still has 10% better fuel efficiency," Mundigler said. The 100 hp iS sport has a modified air box and intake system, and new software loaded into its ECU (Electronic Control Unit). Rotax hadn't officially announced the price as we went to press, but Mundigler said it will be offered until October 14 at the 2013 price of the 912 iS, about $25,225 retail. This year marks the 25th anniversary of the Rotax model 912 engine.
Page 1 of 3