Tuesday, April 22, 2014
Sun 'n Fun Roundup 2014
Starting the air show season right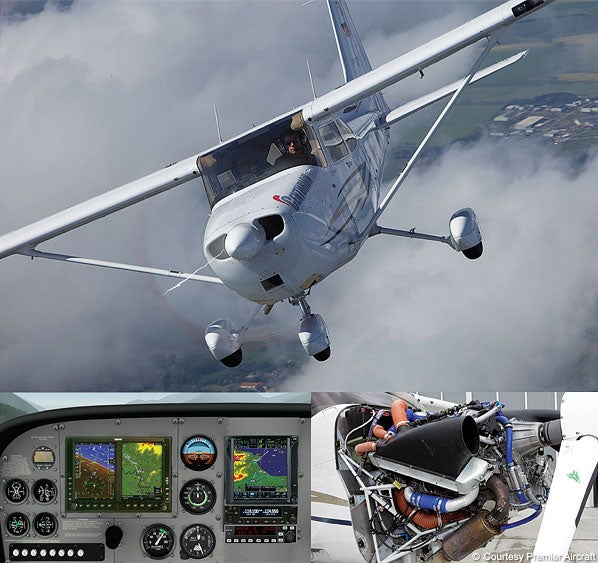 Premier Aircraft Sales Premier Edition 172 with Garmin panel and Centurion 2.0 liquid-cooled turbocharged diesel engine.
Premier Aircraft Sales' Premier Edition 172
www.flypas.com
The south Florida aircraft sales and services company introduced its Premier Edition 172 upgrade program, delivering a completely refurbished Cessna 172R or S model with a Centurion 2.0 liquid-cooled, turbocharged diesel engine, a new Garmin panel, and completely restored and refurbished airframe. Customers can have the company source an aircraft and convert it for them or have any combination of Centurion engine, Garmin avionics and interior installed in their own Cessna 172.
"This program is a direct response to what our customers have been asking for," said Art Spengler, VP Operations at the company. At 75% cruise power, the 135 hp Centurion FADEC engine will burn about 5.2 gph of Jet A, versus the 9.2 gph burn of the Lycoming-powered Skyhawk. "Power, mixture and propeller settings are all done with one lever," Spengler added. "No more worrying over fine power/fuel adjustments." The demonstrator, with the "soup-to-nuts" options including full Garmin ADSB-compliant touch-screen panel and KAP 140 autopilot, $289,500.
| | |
| --- | --- |
| Garmin VIRB Elite | Garmin G3X |
Garmin VIRB Elite Aviation Bundle
www.garmin.com
Garmin unveiled a turnkey aerial video system for in-cockpit, HD video recording featuring an HD 1080p action camera with a unique 1.4-inch Chroma color display, recording up to three hours on a single charge. The bundle includes a new stereo headset audio cable for embedding pilot-to-pilot and air traffic control communications within the video, a propeller filter reduces propeller distortion created while filming in-flight videos and accessories for mounting the equipment in the cabin. The company also introduced the Garmin G3X Touch, a glass touch-screen flight display system for experimental and LSA aircraft. The 10.6-inch display features split-screen functionality and a host of advanced interface options.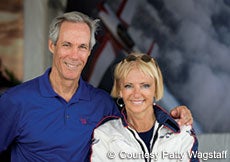 Patty Wagstaff Aerobatic School
Patty Wagstaff Aerobatic School
www.pattywagstaff.com
While performing at Sun 'n Fun, three-time U.S. National Aerobatic Champion and Plane & Pilot columnist Patty Wagstaff also promoted her newly established Patty Wagstaff Aerobatic School, located at Northeast Florida Regional Airport (KSGJ) in St. Augustine, Fla. Her academy will focus on precision aerobatics in classic competition style for pilots who want to fly for recreation, air shows or competition. Additionally, the school will also offer tailwheel training and upset training to individuals and corporate flight departments. Training will be provided in the Super Decathlon and the Extra 300L, the two-place version of the high-performance monoplane Patty flies in air shows around the world. "Starting an aerobatic school gives me and my instructors a chance to pass on our experience in aerobatics and upset training, and to help create more skillful and safer pilots," said Wagstaff.
With an aerobatic box adjacent to the airport's primary runway, St. Augustine's airport has long been a magnet for sport aviation and top aerobatic performers. The aerobatic school is based at Southeast Aero, the U.S. distributor of Extra Aircraft.
Page 2 of 3