Monday, September 1, 2008
Synthetic Vision
Flying by visual reference—regardless of the visibility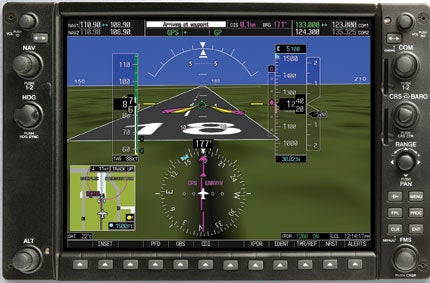 Over the past decade, new technology that promises to make instrument flying almost as easy as (and arguably even safer than) flying visually has been introduced into the general aviation (GA) fleet. Synthetic vision takes the idea of an artificial horizon and expands it to an artificial view of the outside world, allowing pilots to fly by visual reference even in the clouds. Terrain, runways, obstacles and (optionally) traffic appear on the PFD (primary flight display), along with typical glass-panel indicators for heading, altitude and airspeed. Optionally, a pilot can also display Highway in the Sky (HITS) as a set of rectangles defining the flight path. A typical instrument flight with synthetic vision starts with a takeoff from a virtual runway that's always clear (regardless of the actual visibility); it then intercepts a path in space (defined by HITS boxes) to the first waypoint and continues until it's time to descend, at which point the HITS boxes (along with more conventional horizontal and vertical deviation indicators and/or flight director command bars) guide the plane to another virtual runway for landing.
At this writing, three companies offer synthetic vision products aimed at GA aircraft; two more plan major announcements.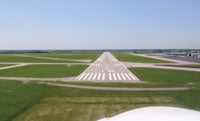 The Garmin G1000 equipped with SVT (top, right) on short final to runway 18 at New Century AirCenter Airport in Olathe, Kans. Compare Garmin's depiction with the real outside view of the same runway and airport from a G1000-equipped Diamond DA40 (above).
Chelton FlightLogic
Chelton Flight Systems (now a division of England's Cobham plc) has been selling synthetic vision systems for GA aircraft since the FAA's Capstone Program in 2001—it's now the market leader, with almost 1,500 systems installed. Of the FlightLogic Synthetic Vision Electronic Flight Information System (EFIS), Chelton Western Region Sales Manager Greg Schmidt says, "[It's like] eye candy—it sometimes gets a pilot's head down to the point where it can be dangerous because the display is so beautiful. Especially down low, you see the mountains and obstacles as you get close to them."
Like other synthetic vision systems, FlightLogic puts synthetic terrain on a PFD in front of the pilot, next to an MFD (multi-function display) for moving map and other auxiliary functions. Unlike other vendors, Chelton hasn't attempted to duplicate the typical "over-and-under" attitude indicator (AI) and horizontal situation indicator (HSI) on the PFD. According to Schmidt, "That's what you get when you replicate analog instruments—which isn't what we do. Our PFD is an AI with a flight-path marker. We find that pilots experience extreme task reduction when they don't get the typical AI/HSI combination." Instead, Chelton superimposes all critical flight information over an AI, including horizontal and vertical deviation (as appropriate), much like the heads-up display on a modern jet fighter. Users who want an "analog-style" HSI display can get it on the MFD. Chelton's terrain display is different from competing systems; it offers six-arc-second resolution (versus 30 arc seconds with most others), but doesn't display rivers, lakes and other water features. The terrain on Chelton's display is always brown, instead of the color-coding used in competing systems. "We were told initially by the FAA that you couldn't have flashing yellow or red on the PFD," says Schmidt. "Therefore, we couldn't display it. We followed the TSO that was in place at the time. We do use TAWS coloring on the MFD."
Page 1 of 4