Tuesday, May 21, 2013
The Hot 10 Spring Roundup
Our best picks from the 2013 Sun 'n Fun international fly-in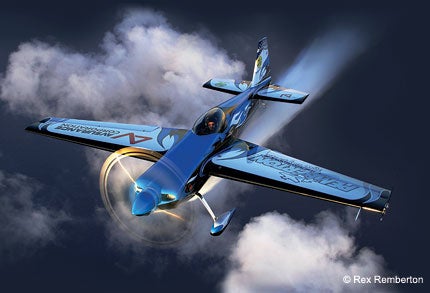 Sun 'n Fun air show performer Melissa Pemberton debuts a new, dramatic look for her Zivko Edge 540.
Spring without the Sun 'n Fun International Fly-In & Expo would be like Christmas without Santa, LSA without Rotax, Ga., without Cessna and Piper. It's the place we go to shake off the snow, ice and sleet of winter. And once again, Lakeland, Fla., didn't disappoint, with humid, mid-80s temps and mostly fair skies. Winds were a factor in a couple of seaplane accidents, but otherwise there was lots of flying every day.
Attendance at all the big air shows is lighter these days than it was 10 years ago, when cruising the aisles inside and outside was a true downtown metropolis experience. Nonetheless, the large and enthusiastic crowd was nothing to sniff at.
The biggest visible change this year was the overhaul of Paradise City, the light-sport/ultralight flying demonstration area south and east of the main display grounds. Vendors exhibiting aircraft in the LSA Mall now are just an easy push from the newly improved 1,600-foot grass runway. That made for easy sales pitches topped off with demo flight dessert for potential customers.
Veteran air show legend Bob Hoover was inducted into Sun 'n Fun's Flight Path Hall of Fame—and who more worthy of recognition than this WWII combat veteran and celebrated air show pilot?
One sorrowful note: no Thunderbirds, Blue Angels, F-18 flybys or other military flight demonstrations. Chalk that up to sequestration. Windfall bonus? It was a lot quieter!
Avionics and other technical advancements continue at an astonishing rate; new LSA debuted and wowed the crowds; colorful tents seeded dreams of summer flights.
And as always, Sun 'n Fun repatriates us to the world of flight.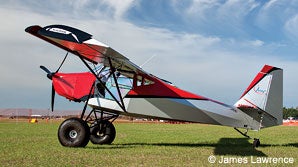 Just Aircraft Superstol
Just Aircraft SuperStol
Grabbing a fistful of attention every day at the light-sport flight area was the handsome, high-jumping Just Aircraft SuperStol. Soon to be ASTM-certified as an S-LSA, this fat-tired, shock-absorbing LSA kitplane made a habit of astounding spectators with its steep descents, short stops and high-angle takeoffs.
Designer Troy Woodland and partner Gary Schmitt started Just Aircraft in 2002 with the Escapade kit, followed by the Highlander, which quickly caught on with bush pilots.
Flash-forward 300 deliveries to the SuperStol, Woodland's side-by-side two-seat homage to the legendary Helio Courier STOL bush plane. That SuperStol racked up 40 sales within a few months of its debut is no wonder. Check it out:
•
 all-aluminum, fabric-covered wing with automatically deploying full-span leading-edge slats and large Fowler flaps delivers slow-flight capabilities (land at 30 mph...or less) and faster cruise speeds (110 mph)
•
 shock-absorbing oleo-strut main landing gear (20-inch total throw on landing compression) and tailwheel, and huge tundra tires dramatically soak up the bumps
•
 takeoff/landings in 150 feet or less (less as in under-30-foot rollouts!)
Folks were jumping around the Just booth like kids at a water park, even though officials wouldn't let Woodland give a full airing of its prodigious STOL chops: 800-plus fpm parachute-style descent to no-bounce landing, beyond-20-degree pitch angle takeoffs and gear that absorbs high-sink-rate smashdowns like a marble in a bowl of pudding.
If there's a craving in your soul to fly the bush like few ever have, give this bird a serious look.
Kit Price: $36,650, minus Rotax 912 or 914 engine. S-LSA price to be an-nounced. Contact:
www.justaircraft.com
.
Page 1 of 6