Tuesday, May 21, 2013
The Hot 10 Spring Roundup
Our best picks from the 2013 Sun 'n Fun international fly-in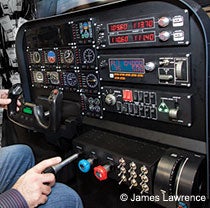 Flight Training Cockpit
Virtual Flight Reality
For the pilot who has everything: a do-it-yourself flight simulator panel. If you've ever set up a flight sim on your home computer, you've likely heard of Saitek, which makes tons of hardware, such as rudder pedals, throttle quadrants, yokes, sticks, radio/switch panels and 3.5-inch LCD instrument modules that simulate real-world flight instruments. Just push a button on the modules to reconfigure as an Altimeter, Attitude Indicator, Airspeed Indicator, Compass, Turn and Slip Indicator and Vertical Speed.
Now comes this cool product from Pilot Mall—a toy store for kids big and small—called the Flight Training Cockpit-Advanced Panel. The bright idea is to give you a place to mount all those super computer-driven Saitek components in one realistic simulation of an actual instrument panel.
Pilot Mall's president Neil Glazer and Canada's Redfab, Inc. cooked up the all-metal panel. It's a shell that's fully compatible with all Saitek products for easy mount/dismount of components.
"You can build as you go," says Glazer, "and later even change the modules with a button push to simulate instruments you add or move around in your own aircraft panel."
Price: Bare panel, $399; fully equipped as photographed, $2,200; "nicely" equipped, $1,000. Contact:
www.pilotmall.com
.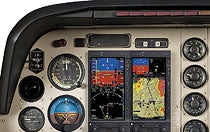 Aspen Avionics
Aspen Augments NextGen Offerings
Aspen Avionics joins the flurry of avionics makers bringing products to market for the NextGen see/be seen traffic system with two new lines offering GA pilots options for the FAA ADS-B Out equipment mandate and no-fee weather, and traffic services for the ADS-B In network. One line is new, the other expands on the company's existing Connected Panel wireless cockpit technology. Both optimize Aspen's existing displays.
First up, the new line includes the certified ARX100 dual-band ADS-B receiver for aircraft already carrying a Mode S transponder with Extended Squitter and an ADS-B-compliant GPS on board. The ATX200 dual-band ADS-B transceiver is meant for aircraft with Mode A/C transponder or Mode S without Extended Squitter and WAAS-enabled GPS. The ATX200G combines adds WAAS GPS to the ATX200. All three models work with Evolution PFDs and MFDs.
Next, expanding the Connected Panel product line is the Connected Weather CG50. This small Wi-Fi receiver hard-wires into Evolution displays to bring subscription-free ADS-B In weather there and simultaneously via an iPad.
Also out is an upgrade to the Connected Pilot CG100 that displays free-subscription weather from portable ADS-B receivers onto Evolution displays. For in-service CG100 installations as well, the upgrade adds ADS-B weather to other core Connected Pilot features like flight planning and data logging.
Prices: ARX100, $1,695; ARX200, $3,995; ATX200G, $4,995. Connected Weather CG50, $949. Contact:
www.aspenavionics.com
.
Page 3 of 6