Tuesday, May 21, 2013
The Hot 10 Spring Roundup
Our best picks from the 2013 Sun 'n Fun international fly-in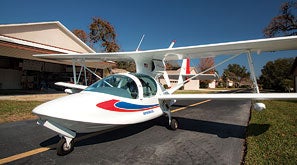 Super Petrel LS
Biplane Amphibian
Flying watercraft seem to be all the rage these days. Evidence: SeaRey and SeaMax LSA amphibs and a host of float-foot birds—Flight Design CTLS, Tecnam SeaSky and Legend AmphibCub, to name a few.
New to America but well established and certified in Brazil is a composite body/fabric wing beauty: Edra Aeronautica's Super Petrel LS. It's the only two-winged seaplane LSA in existence and is in final stages of S-LSA certification.
Why a biplane amphib? The engineering team says:
•
 Having the lower wing close to the water makes for easier, more robust sponson attachment and reduces water spray to the prop.
•
 Smaller span (29 feet; 161 sq. ft. wing area) makes for agile water/air handling and easy hangaring.
The retractable landing gear is mechanical, not electrical, reducing the chance of motor failure problems. The nosewheel retracts and hides behind clamshell doors.
Introduced 20 years ago, 300 units have gone to 23 countries. Kits are no longer offered. The Super Petrel LS is certified in Brazil, Australia and several European countries to the JAR-VLA standard.
Some quick specs:
•
 Rotax 912 ULS power
•
 110 mph cruise at 5,200 rpm
•
 best climb rate: 1,000 fpm
•
 empty weight/max gross: 710/1320 pounds. Useful load: 610 pounds.
•
 45-inch-wide cockpit; 50 pounds baggage plus two adults
•
 total fuel capacity: 23.7 gallons: 20 in two lower wing tanks, 3.7 (45-minute reserve) in header tank behind passengers
•
 electric bilge pump
Price: estimated approx. $125,000. Contact:
www.floridalightsportaviation.com
and
www.edraaeronautica.com.br
.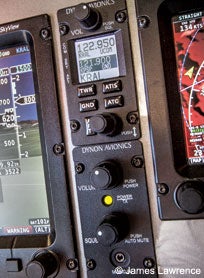 Dynon Avionics
Dynon Com Radio And Audio Panel
Dynon Avionics brings two new Sky-view-integrated devices to panels with its SV-COM-C25 COM Radio and SV-INTERCOM-2S Intercom/Audio Panel. Pilots with SkyView EFIS displays will appreciate the reduced cockpit workload with the new radio. A key feature is push-button frequency tuning, by airport and station type, rather than by spinning in numbers (old-fashioned knob twiddling is still possible).
Pilots can also send freqs from SkyView's airport information database pages direct to the SV-COM-C25 Com Radio—how cool is that? We're talking airport ATIS, tower and ground frequencies: Push a button, and you're good to go. If the SkyView display should go down, the comm continues to communicate.
Second frequency monitoring with a standby button for switching freqs and other dedicated buttons—TWR, ATIS, GND and ATC—make life simpler, too.
The two-place SV-INTERCOM-2S intercom, another lilliputian device, sports full-featured audio panel capability: support for dual radios and dual stereo headsets and a number of music inputs, as well. It cozies up nicely with the com alongside the SkyView 10-inch display, or you can get a horizontal version to mount below the seven-inch SkyView panel.
Dynon offers classroom training at airshows and at their factory in Washington State so you don't have to learn the button-push boogie all on your own.
Prices: SV-COM-C25 Com Radio, $1,295. V-INTERCOM-2S Panel, $295. Contact:
www.dynonavionics.com
.
Page 5 of 6