Sport-Pilot Training
Our pilot training articles are designed to help you improve your flying proficiency. Bone up on beneficial skills as well as the biggest mistakes to avoid as a pilot. Fly right with articles on topics such as dealing with ice and the most dangerous things you can do as a pilot.
Tuesday, June 8, 2010
Dealing With Convective Weather
Some pilots simply lock their airplanes in the hangar when convective weather is about. Others learn to cope.

Shortly after returning from a recent Grand Caravan delivery from Long Beach, Calif., to Seoul, Korea, I spoke at a LoPresti First Saturday event in Sebastian, Fla.
Tuesday, May 25, 2010
The Myth (Almost) Of Tailwinds
Logic suggests you should have tailwinds roughly 50% of the time. Logic is wrong.

It was late March 1994, and I was waiting for wind—again. Mooney Aircraft had loaned me a new TLS in January so I could set several world records flying between Los Angeles and Jacksonville, Fla.
Tuesday, May 25, 2010
Stretching Your Wings
Advanced training is the ticket to taking your flying to the next level

One of the most popular phrases in general aviation is "license to learn."
Tuesday, April 6, 2010
Dream Makers: Everyday Pilots Reaching For The Sky
When passion and determination combine, anything is possible

Dreams of flight are special. They beckon you from your earliest memories, and they're insistent—always calling you to look up at the sky when an airplane passes overhead, or crane your neck at the nearest airport.
Tuesday, March 23, 2010
Nonflying Aerospace Careers
10 dynamic career fields worth considering

In past years, we've called this section "Nonflying Aviation Careers," recognizing that not everyone interested in aviation wants to be a pilot.
Tuesday, March 9, 2010
Uphill/Downhill Landings
Making sense of tricky landings

What are the best conditions for landing uphill/downwind or downhill/upwind? It may seem dangerous to land into the wind but downslope on a snowy runway; yet landing upslope with a tailwind seems equally precarious.
Tuesday, February 9, 2010
From Tailwheel To Turbine
Total transition training, the Gauntlet way

Bill Stewart, until recently a lapsed pilot, sounds like something between a fighter jock and a kid in a candy store as he recounts his latest aerial exploits on the ramp at Chicago's Aurora Municipal Airport (ARR).
Tuesday, January 26, 2010
Learning To Fly 2.0: Cooler, Safer And More Fun Than Ever
Big changes in technology, manufacturing and design have changed the way we learn to fly

Imagine it: You're training for night cross-country flying. The evening is moonless VFR. Your weather briefing says your route is clear. The synthetic vision feature of your glass instrument panel displays everything—including the runway centerline—as if illuminated on a clear day.
Tuesday, December 15, 2009
Be A Great Pilot!
Top tips for all aspects of flight

The sheer enormity of the subject is a little intimidating. You probably could name several thousand characteristics of a "good pilot."
Tuesday, December 1, 2009
Kings Of The Sky
Spend a day with John and Martha King and the hotly anticipated Cessna Skycatcher

"So what are they like in person?" is the first question my pilot friends ask when I tell them I've spent a day with John and Martha King, the well-known founders of King Schools.
Monday, November 2, 2009
The Checkride Chronicles
A year in the life of a designated pilot examiner

Who's the judge beside you in the cockpit, deciding whether you're worthy of receiving aviation's highest honor (a license to learn)? Hopefully, it's someone who'll make your entry into the world of aviation less than turbulent.
Tuesday, October 20, 2009
Flying The Friendly Skies: No Better Time!
This may be the perfect time to achieve your aviation dream

Success in aviation always has been a matter of perspective. Student pilots hoping for an airline career in the '50s attributed their lack of success to the oversupply of military pilots emerging from the Korean War.
Tuesday, October 20, 2009
Staying Centered
If you're a pilot, there's more to staying centered than transcendental meditation

It was 1984, and I was ferrying one of the last of the Cessna 207s to South America. It was a midsummer afternoon in South Texas, and the mushroom cumuli were climbing high into the stratosphere all along the border and south toward the Gulf of Mexico.
Tuesday, October 6, 2009
Top Mistakes In Convective Environments
How to stay safe in bad weather

Deep, moist convection, better known as thunderstorms, are the nemesis of all aircraft, big or small. Avoidance is mandatory.
Tuesday, September 22, 2009
Flying The Corridors
VFR flight corridors serve a useful purpose in congested and some not-so-congested airspace

V­FR corridors have served an important function in U.S. airspace since the creation of the old TCAs (Terminal Control Areas) and TRSAs (Terminal Radar Service Areas), now less telegraphically renamed Class B and Class C airspace, respectively.
Tuesday, August 11, 2009
Sporty's Foundation: The Future Of Aviation
One child at a time, Hal Shevers and his foundation are keeping aviation alive

If we don't get more young people interested in every aspect of general aviation, it will simply disappear as we know it," Hal Shevers, the founder and chairman of Sporty's Pilot Shop, tells me as he punctuates his sentence with a long pause and his piercing eyes.
Tuesday, July 28, 2009
Formation Flying! Part II
The cognitive challenges of flying lead

Formation flying is a dangerous and, for me, compellingly beautiful and engaging experience.
Tuesday, July 28, 2009
Ticket To Ride III
Part III: Don't get cocky, kid—You've soloed. Time to prep for The Ride!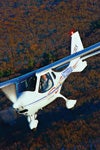 Right after soloing in 860LS, the lovely Flight Design CTLS, I feel light as a cloud.