Sport-Pilot Training
Our pilot training articles are designed to help you improve your flying proficiency. Bone up on beneficial skills as well as the biggest mistakes to avoid as a pilot. Fly right with articles on topics such as dealing with ice and the most dangerous things you can do as a pilot.
Tuesday, August 11, 2009
Sporty's Foundation: The Future Of Aviation
One child at a time, Hal Shevers and his foundation are keeping aviation alive

If we don't get more young people interested in every aspect of general aviation, it will simply disappear as we know it," Hal Shevers, the founder and chairman of Sporty's Pilot Shop, tells me as he punctuates his sentence with a long pause and his piercing eyes.
Tuesday, July 28, 2009
Formation Flying! Part II
The cognitive challenges of flying lead

Formation flying is a dangerous and, for me, compellingly beautiful and engaging experience.
Tuesday, July 28, 2009
Ticket To Ride III
Part III: Don't get cocky, kid—You've soloed. Time to prep for The Ride!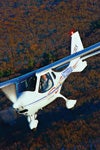 Right after soloing in 860LS, the lovely Flight Design CTLS, I feel light as a cloud.
Tuesday, July 14, 2009
Lowest To Highest
From below sea level to a Colorado high in a light jet

I spent over a year making the transition from piloting a TBM 700 turboprop to becoming a jet pilot; a process that has taken me through an ATP rating, two type ratings, a lot of simulator time, a jet trip to Paris, a bit of mentoring, one or two scary moments, some frustration and piles of cash
Tuesday, July 14, 2009
You Spin Me Round!
Tutima Academy of Aviation Safety takes the unusual out of unusual attitudes

When I was a student pilot and my instructor would send me on solo flights to practice maneuvers, stalls were always last on my list.
Tuesday, July 7, 2009
10 Signs Of A Great Pilot
Observations from around the patch

All of us have spent considerable time observing our fellow aviators' takeoffs, landings, radio communications, preflight inspections and general behavior at (and away from) the airport.
Tuesday, June 23, 2009
Formation Flying
The risks and rewards of flying wing

I've seen few things in my lifetime as beautiful as looking down on other planes in flight while on the top of a wingover. Multiple airplanes acting as one require a significant amount of discipline, dedication and practice. Even after more than 3,000 hours of flying within 20 feet of other airplanes, I know that this is an extremely risky activity that should never be attempted without considerable ground and flight training.
Thursday, June 11, 2009
WAAS
GPS Approaches for Every Airport?

The benefits of transitioning from pilotage to dead reckoning, four course ranges, ADF, VORs, Loran and then to GPS have been nothing short of spectacular.
Tuesday, May 26, 2009
A New License To Learn
Advanced training leads to more than just proficiency; it can also save lives

A few weeks ago, my friend Ray recounted a scary experience he'd had in his high-performance single while on a trip with his wife and daughter in IMC and at night.

Tuesday, May 12, 2009
First 500 Feet, Part I: Engine Failure!
What to do when the worst thing happens at the worst moment

Engine failure on takeoff is every pilot's worst nightmare, but there's one basic rule that applies to all in-flight emergencies, regardless of the situation: Keep your cool (easier said than done) and fly the airplane. Having said that, the most important aspects of survival can be summed up in two words: mental preparation and training/practice. Okay, that's four words, but you get the point.

Monday, May 11, 2009
Ticket To Ride II
Part II: Practice, practice, practice, home study, and what? Time to solo already? Gulp.
Tuesday, April 21, 2009
From Cirrus To Citation
JetAviva puts its clients into the left seat of light jets

Through my Lightspeed Zulu headset, I hear a confident voice: "Denver Center, Citation One Three Zulu Mike, vacating flight level 390 for 240, smooth ride."
Tuesday, April 21, 2009
Looking For 200 Knots
Forty years ago, the goal was 200 mph. Today, it's 200 knots.

Fast feels good. For those of us obsessed with clocking along at the velocity of a Lamborghini, speed is the kinesthetic equivalent of beauty.

Tuesday, April 7, 2009
The Right Way To The Left Seat
How to realize your dream of becoming a professional pilot

Flying is in the blood of certain individuals. Some of us plan a career in the cockpit from an early age, and we pursue it to the exclusion of everything else. Others keep their aviation goals quietly smoldering, always on a back burner ready to emerge at the right time. For various reasons, they may alight in a different direction, attain career goals outside of aviation and pursue vocational paths that seem far detached from flying. But many of them come back.

Tuesday, April 7, 2009
Weather In The Cockpit
XM Weather provides real-time information in the cockpit for pilots who are serious about their weather decisions

Ask most pilots what subject in aviation they wish they knew more about, and a majority will answer, "weather." Indeed, while forecasters do occasionally still get it wrong, and even the best meteorologists acknowledge that we still have much to learn, the science of weather prognostication improves each year.

Tuesday, April 7, 2009
TransPac Aviation Academy
Drawing from its Pan Am training heritage, TransPac positions itself for the future

Tradition goes a long way in aviation. A rich history aloft is respected and admired, whether it applies to pilots, aircraft or—in the world of ab initio training—flight academies. With its legacy steeped in the fabled lore of one of the greatest airlines in history, Pan Am International Flight Academy is long on tradition and legacy.

Tuesday, March 24, 2009
The Last 50 ft.
Making it all come together

When you're on short final and descending through 50 feet, it really doesn't make much difference how good you are at centering airways, whether you can spout FARs or if you scored 100% on the written: The only thing that counts is how well you actually fly. Everything else is superfluous because every single thing you know about actually flying the airplane is compressed into a 10-second time span and an ever-decreasing sliver of altitude. This is literally where the rubber meets the road and where every one of your moves has measurable consequences.

Tuesday, March 10, 2009
Ticket To Ride
Earning a sport pilot license: Part I

Enough trash already. This endless washboard-road turbulence promises to reintroduce me to the hot dog and greasy fries I just ate. Note to self: Next time, have an avocado salad.