Sport-Pilot Training
Our pilot training articles are designed to help you improve your flying proficiency. Bone up on beneficial skills as well as the biggest mistakes to avoid as a pilot. Fly right with articles on topics such as dealing with ice and the most dangerous things you can do as a pilot.
Tuesday, June 1, 2004
The 10 Dumbest Things Pilots Do
Although pilots continue to try to find new ways to screw up, there's an amazing similarity to accident scenarios from today and from 75 years ago. Here's a list of the most common stupid pilot tricks.

Ask any pilot about the danger zones of pilot experience and most will give you a blank stare. Ask Bruce Landsburg of the AOPA Air Safety Foundation or veteran instructor/aviation journalist Rod Machado and you'll receive intelligent, informed answers.
Saturday, May 1, 2004
Worst-Case Weather Scenarios
If you find yourself in hazardous situations, nothing helps you more than having a plan

There is absolutely no excuse for beginning or continuing a flight into known hazardous weather—"hazardous" being defined as any weather condition that exceeds the limitations of your pilot ratings and currency and/or those of the airplane as it's certified, equipped, maintained and inspected. Our responsibility as pilots in command is painstakingly clear when it comes to weather planning and flight in adverse conditions.
Saturday, May 1, 2004
Aviation Careers Outside The Cockpit
Very few people realize that there's a broad spectrum of job opportunities residing on the ground

Not everyone who loves airplanes wants to be a pilot. Obviously, there's much more to aviation than flying. The spectrum of service to the aircraft industry is as wide as a rainbow that is arcing the sky—there's something for everybody. And here's just a small sampling.
Saturday, May 1, 2004
Cockpit Career Update Part 1: Is Now The Time To Prepare For An Airline Job?
We invited leading industry representatives to our offices in Los Angeles for a conversation about the future of cockpit careers. Here's what they had to say.

After September 11, pilot careers in 2001 looked bleak. Newspaper articles confirmed the airlines were hemorrhaging red ink, thousands of pilots had been furloughed and new hires appeared to be a thing of the past. While the media continues to talk about the tough times in the commercial air-travel industry, many insiders think the tide has turned.
Thursday, April 1, 2004
10 Fast Fixes For Lousy Landings
Pilots put their passion and their pride on the line with every landing. Here's some advice from the pros.

People place too much emphasis on landings. Non-pilots often base their entire evaluation of a pilot's ability on nothing more than the smoothness of the touchdown at the conclusion of the flight. Never mind that the pilot in command may have made a clumsy takeoff, forgotten to retract the flaps during climb, leveled at the wrong altitude, left the cowl flaps open at cruise, descended without richening the mixture or almost landed at the wrong airport—a smooth return to Earth usually forgives all sins.
Thursday, April 1, 2004
Got Insurance? Are You Sure?
You may be as surprised as we were to discover that as many as half of America's active pilots unknowingly fly without it

A pilot rents an airplane from a fixed base operator. After an hour of flightseeing, he returns to his home airport and is cleared to land behind an arriving biz jet. The pilot gets into a small bit of leftover wake turbulence, the rental aircraft wobbles just before touchdown and a wingtip catches the runway. Head in hand, the pilot taxis the aircraft back to the FBO. A mechanic looks at the damage and estimates $15,000 to $20,000, and almost at the same moment, the pilot learns the FBO's aircraft insurance deductible is $10,000. Any guesses who gets to pay the 10 grand?
Thursday, April 1, 2004
The Ultimate Preflight
The assumption that the airplane has always worked in the past is no excuse for a hasty inspection

The operative word there is "almost." "Almost zero" isn't zero. Although we'll never get an airplane to be 100% in terms of condition, wouldn't it be silly to get hurt just because we didn't bother to spend an extra five minutes and missed a loose nut or a crack that was right there, ready to be discovered?
Thursday, April 1, 2004
Prime Time For Icing
Although winter may have the reputation, springtime can be just as notorious when it comes to freezing conditions

The first hints of warmer weather can cause a sigh of relief. Finally, winter is over. The grass is getting green. The birds sing. You know the story. But spring is a time when temperature ranges can easily move up and down above the freezing level. And even if it's comfortable for your airplane when you're on the ground, that doesn't mean things will stay that way once you're airborne. With slushy runways and spring showers to deal with, it's an easy time to get into trouble, on the ground and in the air.
Monday, March 1, 2004
Learn To Fly!
Flight Training Adventure Camps offers a unique and exciting opportunity for aspiring pilots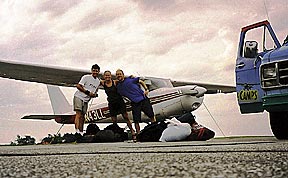 Learning how to fly means, among other things, mastering the controls of an airplane, understanding weather theory and unraveling the mysteries of aerodynamics—all of which can be studied at a local airport. That is an adventure in itself. But what if that process were taken one step further? Imagine, for instance, the Wild West as your flight school. The airplane, your teacher. Here, the vast expanse of the West plays an integral part in your flight training. It's a daring place where you sleep, breathe and eat aviation, 24 hours a day, seven days a week, where you can sleep underneath the wing of the plane you're learning to fly and where all around you is some of the world's most inspiring landscape. This is you learning to fly.
Monday, March 1, 2004
The NASA Report: Looking For Absolution
Should you make a mistake, filling out some simple paperwork might just save your bacon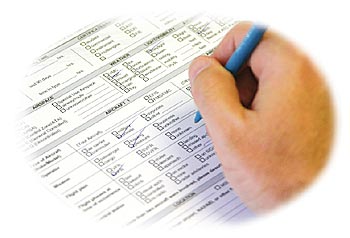 Before you ask, yes, I've filled out my share. Like most reasonably conscientious pilots who try to play by the rules, I don't go around deliberately violating FARs, but on those rare occasions when I think I might have clipped a corner of a Class B, busted an IFR altitude or come closer than I like to another airplane (no matter who was at fault), I whip out a NASA report and send it in.