Sport-Pilot Training
Our pilot training articles are designed to help you improve your flying proficiency. Bone up on beneficial skills as well as the biggest mistakes to avoid as a pilot. Fly right with articles on topics such as dealing with ice and the most dangerous things you can do as a pilot.
Thursday, July 1, 2004
Challenge Yourself
There are lots of ways to have more flying fun. But if you sign up for advanced ratings, you'll also end up being a better pilot.

No question about it—earning the private license is a major accomplishment. Some pilots will never need to seek additional ratings. The private allows pilots to operate in a wide variety of conditions, and many aviators content themselves with the entry-level ticket.
Thursday, July 1, 2004
Crosswind Landings FAQs
Maintain and expand your skills by unraveling some frequently asked questions about this intricate technique

The crosswind landing is a complex maneuver to understand and execute. There are many changing forces to evaluate and juggle simultaneously, and the high degree of control coordination and timing required is seldom matched by any other maneuver of a normal flight. This means that a pilot must use the technique frequently to remain proficient.
Thursday, July 1, 2004
Cockpit Career Update Part 3: The Future Of Pilot Careers
Last month, we covered the technological changes occurring in the industry today. In this final installment of our three-part series, we'll discuss what you can expect in years to come.

No one has the luxury of peering into a crystal ball, especially when it comes to predicting the future of the aviation industry. Technological developments continue to change the face of aviation, and the result of this progress is anyone's guess. There are, however, certain factors that help foretell what may happen to this ever evolving industry.
Tuesday, June 1, 2004
Cockpit Career Update Part 2: Changes In Pilot Careers
Last month, we discussed how today may be the best time to prepare for an airline job. In this second part of our three-part series, we'll show you the technological developments currently happening in the industry.

United Air Lines recently put 100 aircraft on hold. But this isn't an indication of pilot careers going down the tubes. On the contrary, it's only indicative of the changes that are currently going on in the industry. While the major airlines are cutting down, the regional airlines are in full bloom. The routes that are run by major airlines with large airplanes and low load factors are being taken over by low-cost regional operators whose airplanes are almost always full.
Tuesday, June 1, 2004
The 10 Dumbest Things Pilots Do
Although pilots continue to try to find new ways to screw up, there's an amazing similarity to accident scenarios from today and from 75 years ago. Here's a list of the most common stupid pilot tricks.

Ask any pilot about the danger zones of pilot experience and most will give you a blank stare. Ask Bruce Landsburg of the AOPA Air Safety Foundation or veteran instructor/aviation journalist Rod Machado and you'll receive intelligent, informed answers.
Saturday, May 1, 2004
Worst-Case Weather Scenarios
If you find yourself in hazardous situations, nothing helps you more than having a plan

There is absolutely no excuse for beginning or continuing a flight into known hazardous weather—"hazardous" being defined as any weather condition that exceeds the limitations of your pilot ratings and currency and/or those of the airplane as it's certified, equipped, maintained and inspected. Our responsibility as pilots in command is painstakingly clear when it comes to weather planning and flight in adverse conditions.
Saturday, May 1, 2004
Aviation Careers Outside The Cockpit
Very few people realize that there's a broad spectrum of job opportunities residing on the ground

Not everyone who loves airplanes wants to be a pilot. Obviously, there's much more to aviation than flying. The spectrum of service to the aircraft industry is as wide as a rainbow that is arcing the sky—there's something for everybody. And here's just a small sampling.
Saturday, May 1, 2004
Cockpit Career Update Part 1: Is Now The Time To Prepare For An Airline Job?
We invited leading industry representatives to our offices in Los Angeles for a conversation about the future of cockpit careers. Here's what they had to say.

After September 11, pilot careers in 2001 looked bleak. Newspaper articles confirmed the airlines were hemorrhaging red ink, thousands of pilots had been furloughed and new hires appeared to be a thing of the past. While the media continues to talk about the tough times in the commercial air-travel industry, many insiders think the tide has turned.
Thursday, April 1, 2004
10 Fast Fixes For Lousy Landings
Pilots put their passion and their pride on the line with every landing. Here's some advice from the pros.

People place too much emphasis on landings. Non-pilots often base their entire evaluation of a pilot's ability on nothing more than the smoothness of the touchdown at the conclusion of the flight. Never mind that the pilot in command may have made a clumsy takeoff, forgotten to retract the flaps during climb, leveled at the wrong altitude, left the cowl flaps open at cruise, descended without richening the mixture or almost landed at the wrong airport—a smooth return to Earth usually forgives all sins.
Thursday, April 1, 2004
Got Insurance? Are You Sure?
You may be as surprised as we were to discover that as many as half of America's active pilots unknowingly fly without it

A pilot rents an airplane from a fixed base operator. After an hour of flightseeing, he returns to his home airport and is cleared to land behind an arriving biz jet. The pilot gets into a small bit of leftover wake turbulence, the rental aircraft wobbles just before touchdown and a wingtip catches the runway. Head in hand, the pilot taxis the aircraft back to the FBO. A mechanic looks at the damage and estimates $15,000 to $20,000, and almost at the same moment, the pilot learns the FBO's aircraft insurance deductible is $10,000. Any guesses who gets to pay the 10 grand?
Thursday, April 1, 2004
The Ultimate Preflight
The assumption that the airplane has always worked in the past is no excuse for a hasty inspection

The operative word there is "almost." "Almost zero" isn't zero. Although we'll never get an airplane to be 100% in terms of condition, wouldn't it be silly to get hurt just because we didn't bother to spend an extra five minutes and missed a loose nut or a crack that was right there, ready to be discovered?
Thursday, April 1, 2004
Prime Time For Icing
Although winter may have the reputation, springtime can be just as notorious when it comes to freezing conditions

The first hints of warmer weather can cause a sigh of relief. Finally, winter is over. The grass is getting green. The birds sing. You know the story. But spring is a time when temperature ranges can easily move up and down above the freezing level. And even if it's comfortable for your airplane when you're on the ground, that doesn't mean things will stay that way once you're airborne. With slushy runways and spring showers to deal with, it's an easy time to get into trouble, on the ground and in the air.
Monday, March 1, 2004
Learn To Fly!
Flight Training Adventure Camps offers a unique and exciting opportunity for aspiring pilots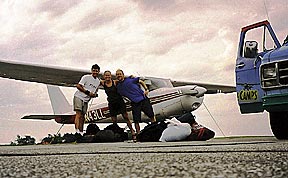 Learning how to fly means, among other things, mastering the controls of an airplane, understanding weather theory and unraveling the mysteries of aerodynamics—all of which can be studied at a local airport. That is an adventure in itself. But what if that process were taken one step further? Imagine, for instance, the Wild West as your flight school. The airplane, your teacher. Here, the vast expanse of the West plays an integral part in your flight training. It's a daring place where you sleep, breathe and eat aviation, 24 hours a day, seven days a week, where you can sleep underneath the wing of the plane you're learning to fly and where all around you is some of the world's most inspiring landscape. This is you learning to fly.
Monday, March 1, 2004
The NASA Report: Looking For Absolution
Should you make a mistake, filling out some simple paperwork might just save your bacon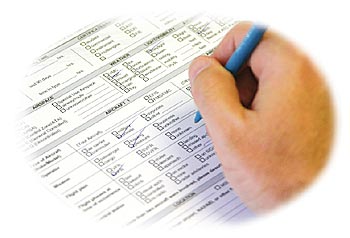 Before you ask, yes, I've filled out my share. Like most reasonably conscientious pilots who try to play by the rules, I don't go around deliberately violating FARs, but on those rare occasions when I think I might have clipped a corner of a Class B, busted an IFR altitude or come closer than I like to another airplane (no matter who was at fault), I whip out a NASA report and send it in.
Sunday, February 1, 2004
Get The Most Out Of Winter Part 2
Last month, we took a look at how much cold-weather flying depends on groundwork preparation. In this issue, we'll explore how to safely and effectively maximize wintertime flight once you're airborne.

Read the owner's manuals for several aircraft, and you'll discover cold-weather starts are different for each engine, but there are some fairly universal rules to follow during cold start attempts. Some pilots refuse to move prop blades under any circumstances, but I always pull them through several times to break any possible hydraulic lock. Fuel is reluctant to vaporize in cold weather, and you'll need to prime the engine(s) more than normal if you expect to start on the first or second try, an important consideration when two tries may be all you'll get.
Sunday, February 1, 2004
Faces Behind The Microphone
Twenty-six tips to help you get more from air traffic control

Pilots and air traffic controllers share a unique relationship, a mutual trust and understanding that supports the modern system of flight. Virtually every time a pilot climbs into the cockpit of an airplane, he or she engages in some sort of verbal exchange with the ATC environment.
Sunday, February 1, 2004
Build A Plane Takes Off!
Pilots from across America and around the world have put the project in motion

Recently, Plane & Pilot asked pilots if they'd be interested in a project that we named Build A Plane. The question we put to our readership was simple: What if there was a program that offered young adults the opportunity to roll up their sleeves and get involved in general aviation? Guided by mentoring adults, what if teenagers were given the opportunity to restore or build a real airplane?
Thursday, January 1, 2004
Get The Most Out Of Winter Part 1
With cool temperatures and great visibilities, autumn-to-spring flying requires a different set of rules—and it all starts on the ground

It may come as a surprise to pilots from southern latitudes, but winter flying can be some of the best there is. I have to be kidding, right? After all, isn't winter the season of blinding blizzards, chillingly cold temperatures and iced asphalt? Aren't the dark months the time when weather becomes the most miserable and unpredictable of the year? Don't many pilots who live in northern climes simply lock up their airplanes from December to March and forget about flying altogether?
Sunday, July 1, 2001
Upset Recovery Training
More and more pilots are beginning to understand that anyone can find themselves in unusual attitudes

I hate roller coasters. Little tykes who are barely out of their diapers scamper away from the Superman Ride giggling and laughing. I, on the other hand, stumble away with nausea, posttraumatic stress and a desire to sue the park for mayhem, reckless endangerment and domestic terrorism. So what am I, a nonaerobatic pilot, doing here at 7,000 feet—with my eyes closed, mind you—falling inverted out of a tailslide in an airplane I've never flown before?
Wednesday, November 30, -0001
Short-Field Ops
How to make every runway seem longer

Wanna talk about short-field landings? Sure, why not?